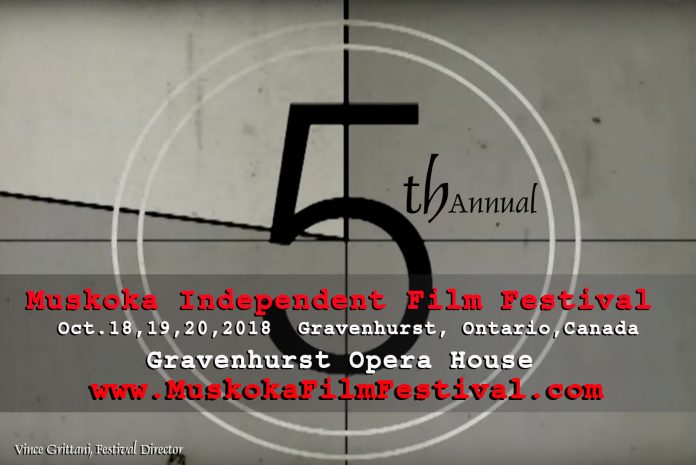 33 Films From Around The Globe
The Muskoka Independent Film Festival was founded by festival director, screenwriter and playwright Vince Grittani* in 2014. MIFF 2018 returns to, the refurbished, Gravenhurst Opera House, in the town of Gravenhurst on Lake Muskoka. 1 1/2 hours north of Toronto.
Films and formats include: full-length features, shorts, documentaries, and animation. Dramas, dramatic comedies, comic dramas, social documentaries, biographies, folktales, musicals, children's etc.
Take advantage of the early bird special! Get $15 off 2 regular adult three-day passes for this year's Muskoka Independent Film Festival at the Gravenhurst Opera House, October 18 – 20, 2018. Daily and Student passes also available. This year they have films from Canada, US, UK, Mexico, France, Japan, and more countries. Films from both emerging and established filmmakers. They even have a few filmed in Muskoka. Films are being screened on Thursday, October 18 & Friday, October 19 from 6 PM to- 10 PM and Saturday, October 20th, 1 PM until 10 PM.
A full final schedule will be posted at www.MuskokaFilmFestival.com  FOR TICKETS call the Gravenhurst Opera House Box Office Phone: 705-687-5550 Ext. #21    Toll Free: 1-888-495-8888