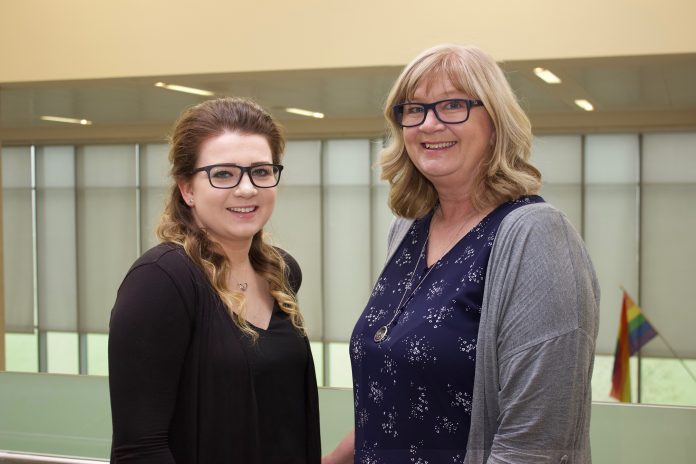 While most students will be scanning the audience to find their parents' faces on graduation day, Becca Hall will get the chance to watch her mother walk across the same stage where she will receive her degree at Lakehead University's 55th convocation on June 8.
Becca Hall, 25, will receive an Honours Bachelor of Arts and Science in Interdisciplinary Studies while her mother Irma, 51, will receive an Honours Bachelor of Social Work. Almost three decades after she had last been in postsecondary, Irma returned to complete her four-year undergraduate degree at Lakehead in the fall of 2016. She decided after a number of major life changes that she was no longer doing what she loved to do and wanted to enter the field of social work, meaning she had to go back to university. When Irma told her daughter that she wanted to apply to Lakehead for social work, Becca became her biggest cheerleader, offering encouragement throughout the application and offer process. Irma's decision also led Becca to return to school herself. It was the last day to apply before the deadline and Becca felt that if she didn't apply that day, she never would, so Becca and her mom sat down and completed her application together.
"It feels like I'm living in a movie, but it's a great thing and I'm so proud of my mom for going back and completing her schooling," Becca said. "It was great to be able to have someone to experience this journey with."
Despite being enrolled in different programs, Irma and Becca ended up having multiple classes together during their first and second years. Irma said it was awesome having classes with her daughter because they were able to do homework together, study together and encourage each other along the way. Surprisingly, the pair managed to keep their relationship secret from their peers.
"We didn't let many people know," Irma said. "We had a few mutual friends who figured it out, but most didn't know. We thought it was better for both of us to forge our own paths in university, which ended up overlapping in a lot of ways."
After they accept their degrees, Irma will continue in her new role as executive director of the Orillia Pregnancy Resource Centre while Becca takes time off to travel.
"I'm so proud of her, it was a really good choice for her and now she has a job right out of school," Becca said. "I'm really excited to watch her cross the stage on Saturday."
The rest of the family is sure to be excited as well because their time attending university together isn't the only noteworthy part of the occasion.
"Anytime your child graduates from university it's a special thing, but in our family, we are the first two to ever go to university so it's even more special," Irma said. "I'm going to cheer and give her flowers and we're just going to have a fantastic day."
With files from Lakehead University Media Relations