A mock disaster training exercise in Bracebridge tested the Muskoka Algonquin Healthcare (MAHC) emergency response plan as well as South Muskoka Memorial Hospital (SMMH) staff and volunteers as they received an influx of "disaster victims" for the drill on June 4.
A Code Orange is an external community disaster or emergency situation that affects the capacity of hospital services. MAHC has emergency plans and mock exercises in place to ensure the organization and staff are able to respond effectively while also identifying areas for improvement. The exercise at SMMH began just after 1 p.m. on June 4 and followed a scenario where an airplane was forced to make an emergency landing on Highway 11. Almost two dozen patients with varying medical conditions and injuries were transported to the hospital where the triage team worked to quickly assess and direct patients to the various treatment areas mobilized by response teams. An Emergency Operations Centre was established to coordinate the response as well as a Family Centre where discharged patients would be reunited with their family members. The exercise ran for about two hours while the hospital continued to operate.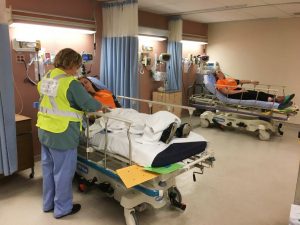 "At the time of the drill, the hospital was busy with patients and I commend our teams for their excellent response, and for effectively managing the additional activity associated with the drill as well as normal hospital operations and patient care," said CEO Natalie Bubela. "These training exercises are invaluable to ensuring preparedness, testing capacity, identifying any issues or bottlenecks in the response, and implementing solutions."
The exercise included community emergency responders from Muskoka Paramedic Services, Muskoka Victim Services and Bracebridge OPP, as well as local students who acted as disaster victims. Emergency preparedness experts from partner facilities and the North Simcoe Muskoka LHIN joined as observers to evaluate the response and identify areas for improvement. The drill was also a collaborative opportunity to enhance partnerships and relationships with other agencies to ensure effective coordination for emergency response activities.
"Participating in the Code Orange emergency simulation exercise helped us to test our plans, clarify inter-agency roles and responsibilities, and assess our capacity to respond to a mass casualty incident," said Kelly Magnusson, Emergency Management program manager at the Simcoe Muskoka District Health Unit.
MAHC wants to thank staff from the following agencies for their participation and support: District of Muskoka, Town of Bracebridge, Muskoka Paramedic Services, Muskoka Ambulance Dispatch, Claire Imrie's Bracebridge and Muskoka Lakes Secondary School Grade 10 drama class, Muskoka Victim Services, North Simcoe Muskoka LHIN, North Simcoe Muskoka Home and Community Care, Simcoe Muskoka District Health Unit, West Parry Sound Health Centre, and Identities in Huntsville.
"We would also like to thank our greater community and our patients and visitors for their understanding as we completed this important training exercise," Bubela said.