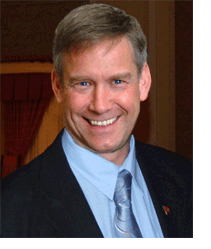 Ontario is taking action to reduce long-term care wait times and end hallway health care.
Yesterday, Premier Doug Ford and Christine Elliott, Deputy Premier and Minister of Health and Long-Term Care, announced that Ontario is moving forward with building 6,000 new long-term care beds. These represent the first wave of the 15,000 new long-term care beds the government has committed to build over the next five years.
"I am pleased to see our government acting quickly on the need for long-term care beds and to bring an end to hallway medicine," said Norman Miller, MPP for Parry Sound-Muskoka. "And I am thrilled that Huntsville's Fairvern Nursing Home is in the first round of new long-term care beds."
As part of today's announcement, the Ford Government re-committed to adding 20 long-term care beds to Fairvern Nursing Home in Huntsville.
The government is also supporting more than 1,100 beds and spaces in hospitals and community settings across the province. Targeted funding will help hospitals with the greatest capacity challenges better care for the communities they serve, including during the expected pressures of the upcoming flu season.
"Hallway health care is a multi-faceted problem that will require real and innovative solutions," said Elliott. "Our Government will continue to listen to the people who work on the front lines of our health care system as we develop a long-term, transformation strategy to end hallway health care."