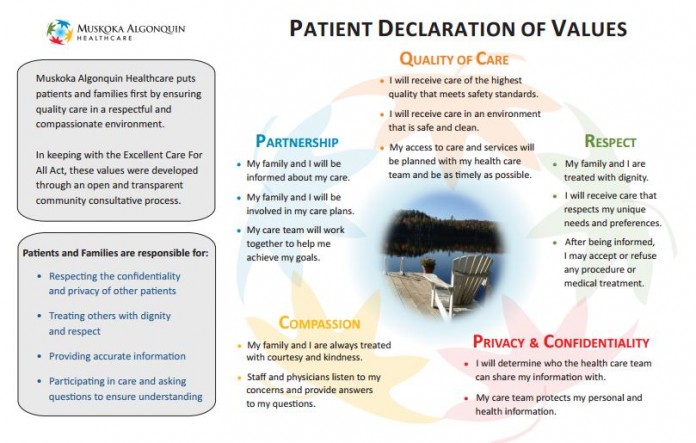 Following a broad consultation and engagement process, Muskoka Algonquin Healthcare (MAHC) has unveiled a new Patient Declaration of Values that reflects what is most meaningful to our patients and families.
The Patient Declaration of Values reflects the expectations that our patients, families and communities have of their health care experience at MAHC. It also demonstrates the roles and responsibilities of patients and families as partners in their care at MAHC.
"Under the Excellent Care for All Act, all public hospitals in Ontario are required to develop and post a Patient Declaration of Values," says Natalie Bubela, Chief Executive Officer. "Our goal was to capture what matters most to our patients and their families in a visually pleasing, easy-to-understand document. The Patient Declaration of Values will act as a driving force to achieve our vision of Outstanding Care that is Patient and Family Centered, while also meeting the expectations of the patients we serve."
The input and feedback provided by patients, family members, staff, and physicians was essential to informing the final document, which is being posted throughout MAHC's sites and on the website.
"I want to say thank you to those who came out to our focus groups and those who responded to the online survey," Bubela adds. "We appreciate you taking the time to help shape this document."