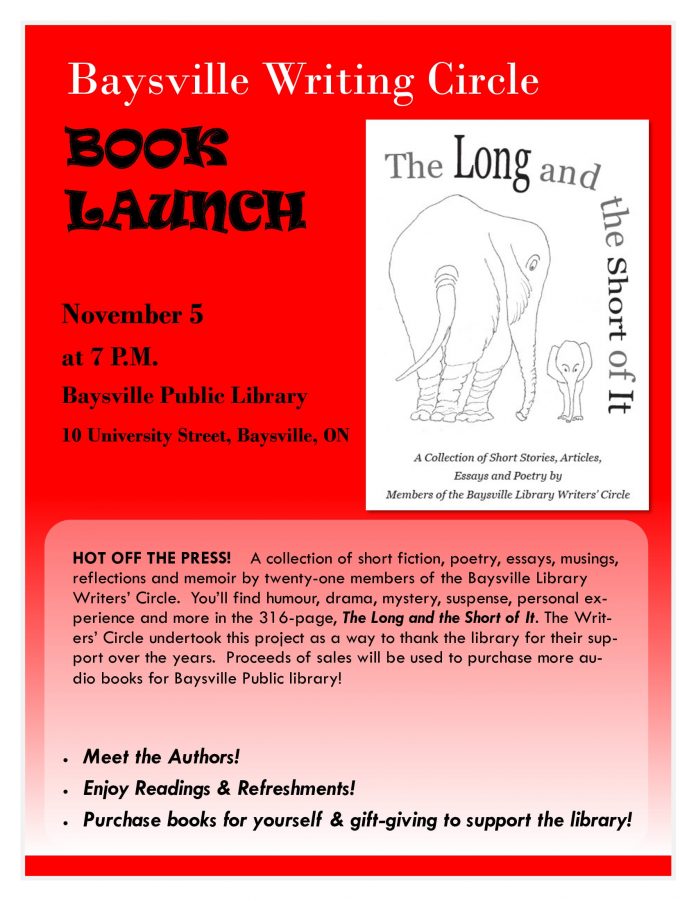 The Writers' Circle at Baysville Public Library is selling their first collection of poetry, short stories and more to raise money for the Friends of the Library.
The Baysville Public Library will host the library's Writers' Circle as they launch their book The Long and the Short of It at 7 p.m. on Nov. 5. The group has gathered monthly at the Baysville Public Library to share their writing and provide feedback and encouragement to each other since 2000. The Writers' Circle is made up of both published and novice writers, producing work in a variety of genres including adult and children's fiction, fantasy and romance, memoir, and historical fiction. The group created the collection as a way to thank the library and staff for their support over the years, so the sales of the books will benefit the Friends of the Library and go toward the purchase of audio books.
"The Long and the Short of It is the result of many solitary hours spent at the computer, or with pen and paper, as well as the monthly hours together helping one another hone their craft," said the group in a statement. "The public is invited to meet the authors, hear readings from the book, enjoy refreshments and purchase books for themselves and as gifts for family and friends."
To join the Writers' Circle for the launch of The Long and the Short of It, visit the Baysville Public Library at 10 University Street from 7 to 9 p.m. on Nov. 5. For more information, contact David Bruce Patterson at 705-999-0410.