It's been a big week for Stacey Thornton. She announced her third win as Muskoka's Favourite Stylist on March 7 within days of opening her own barbershop and salon in Huntsville.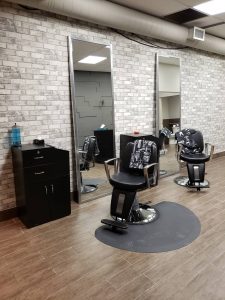 After years of working at a local hair salon, Thornton left earlier this month to open her shop called Orbis, which means compass in Latin and world in English. The store at 4 Brunel Road will serve as a barber shop in the front with the middle portion functioning as a salon. Thornton said she doesn't know what will go in the back area of the shop, but she hopes that it will be something in the beauty industry to complement her current operations. The shop opened on March 4, three days before she announced her win.
"I couldn't have asked for better timing," Thornton said. "It's perfect."
Though originally from Saskatchewan, she grew up for part of her life in Emsdale and has lived in Huntsville for seven years now. She said the support from the community has allowed her to live her dream job and that words can't express how grateful she is. Thornton also won Muskoka's Favourite Stylist in 2016 and 2017.
To book an appointment at Orbis, visit their website here or call 705-789-3996.