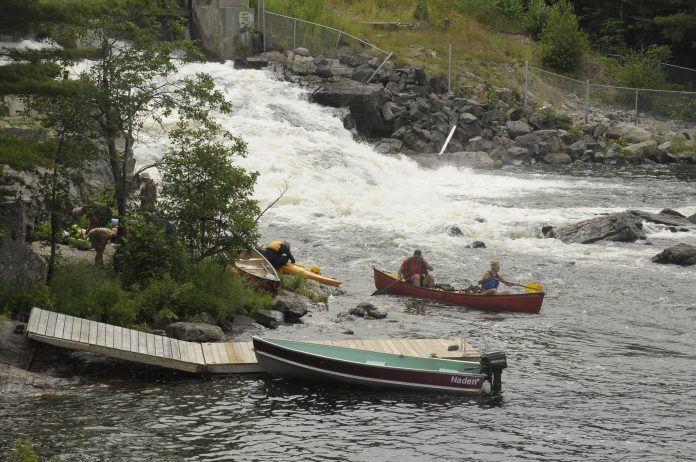 Dear Editor,
In December 2015, Swift River Energy, the company proposing to build a hydro plant at the Bala Falls, cut down the trees and fenced off the traditional portage between Lake Muskoka and the Moon River. That was over a year and a half ago. Since then, not having all the required permits, they have been unable to proceed with any further development. One can only wonder at the sheer bloody-mindedness of a company that would carry out this act of vandalism when they were so far away from proceeding with construction.
But Swift River's fence forces canoeists to take the much harder and more dangerous route across the rocks beside Margaret Burgess Park. The [above] photograph shows a group of canoeists doing this last week. Swift promised that their proposed hydro plant "will not generally diminish the public's enjoyment of the area," but it is hard to see how forcing canoeists to take a more dangerous portage even remotely meets that promise.
In the background, the photograph also shows Swift's broken down fence, an eyesore that is impossible to ignore for anybody coming into Bala up the Moon River. Swift River Energy may think that they can build a hydro plant that will not endanger the public, but they can't even build a fence properly!
But wait, you may say, perhaps I'm being a bit too harsh on Swift River. After all, they are basically just a Toronto property developer; is it really fair to expect them to appreciate things like the force of water-flow in the Spring, or the impact of ice in our northern winters. Maybe. But surely it is fair to keep asking the Ontario Government to fulfill their responsibility to protect the public by requiring Swift River to show how they would operate their proposed hydro station safely. So far Swift has failed to do this, which is not surprising – after all, how could any company build a hydro plant in the middle of such a popular recreation spot without endangering the public.
Yours sincerely,
Allan Turnbull, Bala
Opinions and letters sent to Muskoka411 are the opinions of the writer and do not reflect the opinions of Muskoka411.
Photo Credit: Allan Turnbull