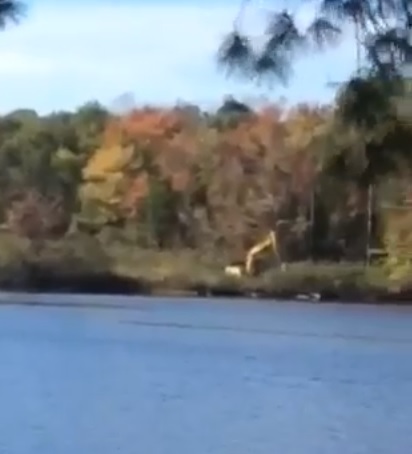 Dear Editor,
We have a serious environmental issue on our hands in the Muskoka Lakes.
Turtles are dying. So are birds, reptiles, fish and the risk of flooding. The township, mayor, MNR, MLA, turtle conservation and each political official have been contacted to no avail.
Clayton Brown has purchased multiple lots surrounding a recognized and designated Environmental Protection area on the Indian River between Mirror Lake and Lake Muskoka. He is counting on the fact that fewer people are up there monitoring him.
We have our family property directly across from this. My Dad and Mom have to watch the devastation each day as he directs dump trucks loaded with boulders, rocks, logs and dirt. The bylaw officer has issued numerous stop work orders, however Clayton Brown continues to fill in an essential wetland. HE IS FILLING IN THE WETLAND in this area, despite numerous attempts to stop him.
Please help by calling the 'Tips MNR' hotline. They are who every other agency will report to – even the various MNR offices. They report directly to the Conservation Officer who will go out to inspect the property (when they have time). The phone number is 1-877-847-7667 and they are there 24/7 answering calls. We must flood their phone lines with concerns so they act.
CTV news has been contacted and we are awaiting our time on air to tell this story of devastation. Please, if you care about the importance of this wetland and the inhabitants of turtles, beavers, snakes and many others PLEASE CALL!! Any contractors delivering the items know that you are part of breaking the law and the balance of the ecosystem.
Bruce Clark, Ken Williams, Joan Watson, Deb Hazlewood, Jason Brass, Jane Brass, Gary Charles Watson, Glenn Knight Muskoka, Ontario; Port Carling, Ontario; CTV Barrie; Bracebridge, Ontario
These photos from the wetland show protected species such as the snapping turtles.
Gary Watson
Opinions and letters sent to Muskoka411 are the opinions of the writer and do not reflect the opinions of Muskoka411.
Photo: Screenshot from Video provided by Gary Watson