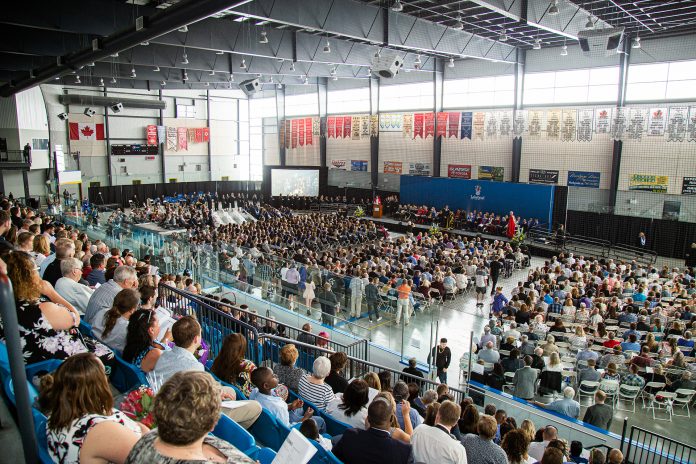 Over 240 students walked across the stage in front of family, friends and faculty at the Orillia campus convocation ceremonies, which celebrated this year's 420 graduates on June 8 at Rotary Place.
The 420 Orillia students were among about 2,200 graduates from Lakehead University's two campuses. The university also presented honorary awards to two individuals for their contribution to the university and community during Saturday's ceremony. Contemporary artist Charles Pachter received a Doctor of Fine Arts while Anishinaabe Elder and storyteller Mark Douglas was presented with the Civitas Award for his contributions to Indigenous education at Lakehead University.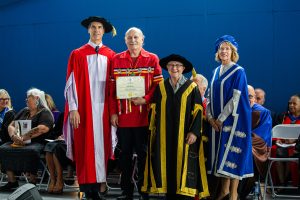 "Our graduates have accomplished so much here at Lakehead Orillia, and we are confident that their efforts, going forward, will make our world a better place," said Moira McPherson, president and vice-chancellor. "Whether they've earned a professional degree in Education, Business Administration, Interdisciplinary Studies, Social Work, or Science, their studies at Lakehead have also prepared them to navigate the rapidly-shifting economic and political uncertainties of tomorrow."
Zoe Dhillon, the student voice from the 2019 class, received an Honours Bachelor of Arts with specialization in English and was presented with a Dean's Scholar Awards for Social Sciences and Humanities in the English category. In her address to the graduating class, Dhillon highlighted the shared experiences students had throughout their time together.
"Through small class sizes, we have developed immense interpersonal skills, learning to adapt and aid others in the pursuit of further knowledge. Through our professors, we have learned invaluable lessons within our respective fields, knowledge that will inspire us to seek out new opportunities in the world and, certainly, knowledge that will stay with us for the rest of our lives," Dhillon said. "Together, we have enjoyed our successes and learned from our areas of growth. And finally, through ourselves, we have learned just how capable we truly are."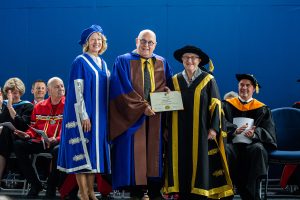 The university also presented awards to students during the ceremony. Tristen Taylor received the Lloyd Dennis Award for Outstanding Citizenship in Orillia and Crystal Jones won a William A. West Scholar Award for Education in the Primary-Junior category. A Dean's Scholar Award for Science and Environmental Studies was presented to David Khorsand in the category of Sustainability Studies and to Annaliese Eber in the category of Anthropology. Megan Gramigna received a Dean's Scholar Award for Social Sciences and Humanities in the Interdisciplinary Studies category.
Chancellor Lyn McLeod gave closing remarks, reminding graduates to maintain an enthusiasm for learning that was forged during their time at Lakehead.
"The world of our graduates is not the world I have lived and worked in — it is a world that they will help to shape," McLeod said. "I am confident that they will be open to new ideas and new approaches, and that they will become aware and engaged participants in their new environments."