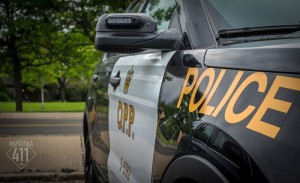 A Parry Sound couple were the victims in Saturday's fatal collision on Highway 69.
Saturday at  2pm West Parry Sound OPP responded to a multiple vehicle collision three kilometres south of Pointe au Baril on Highway 69 in The Township of the Archipelago.
A orthbound pick-up truck attempted to pass two trucks pulling campers and was forced to swerve to miss a southbound Sport Utility Vehicle (SUV). The SUV swerved into the northbound lane and hit the northbound truck head on.
The driver of the SUV, 72 year old Andre Veilleux and the passenger 71 year old Doreen Veilleux, both of Parry Sound were pronounced dead at the scene.
Two occupants from the pick-up truck and two occupants from the northbound truck pulling the camper trailer were transported to hospital for treatment and were released.
The investigation is continuing.