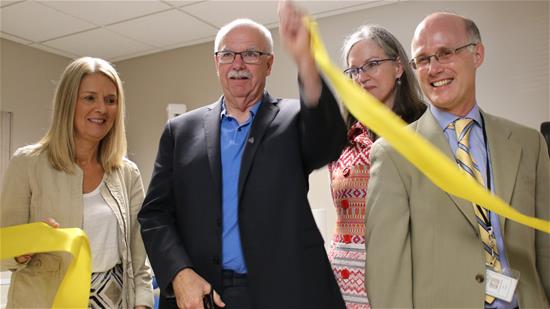 The dental team at the Simcoe Muskoka District Health Unit is now booking appointments at its new Gravenhurst clinic for those eligible for free dental care.
"Opening a new clinic allows us to improve access to dental care for those who qualify, enhance our current services and increase the number of clients we see," said Dr. Charles Gardner, SMDHU's Medical Officer of Health, who officially opened the clinic today. "Oral health is an important part of our overall health. Untreated dental problems can lead to pain, difficulty chewing, and serious infection, and quality of life is also affected. Unfortunately when people who can't afford to see a dentist have pain, they often end up at our emergency rooms, or at their doctor's office.
"Opening this clinic also helps us to meet one of our strategic priorities, which is to address the factors that create inequities in overall health and improve the quality of life for people at risk of poor health."
The clinic, which is located in the health unit office at 2-5 Pineridge Gate, complements the health unit's Healthy Smiles Ontario mobile dental bus, which has been providing service to the community for a number of years. The new clinic allows for the delivery of services that the dental team is unable to provide on the mobile dental bus and ensures that people who need urgent services don't have to wait long times for dental care.
Those who qualify for free dental care include children and youth who are enrolled in the Healthy Smiles Ontario program, as well as adults enrolled in Ontario Works, Ontario Works Disability Support Program, Non-Insured Health Benefits for First Nations people and Inuit, and the Interim Federal Health Program.
To find out if you are eligible for free preventive, routine and emergency dental services and to book an appointment, call Health Connection at 705-721-7520 or 1-877-721-7520 from Monday to Friday, 8:30 a.m. to 4:30 p.m. or check www.simcoemuskokahealth.org.