The Gravenhurst Car Show, one of the biggest car shows north of Toronto with vehicles of all makes, models, shapes and sizes, is making its return to Gull Lake Rotary Park on June 15.
The show will run rain or shine from 9 a.m. to 4 p.m. and admission is by donation with funds going toward offsetting costs for running the event. This year's theme is celebrating 100 years of the Chevy truck and organizers expect it to draw a significant number of trucks to the shores of Gull Lake. The cars and trucks typically "run the gamut of makes and models, stretching back through more than a century of automotive history," according to the release. Along with the cars, the show features food and beer vendors, face painting and dozens of prizes that car owners and guests have the chance to win.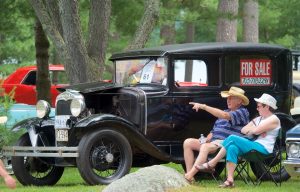 "The car show has become a major event of the calendar for car owners from across Ontario and for car lovers from throughout Muskoka," said Sandy Lockhart, executive director of the Gravenhurst Chamber of Commerce, which operates the Car Show. "Last year was the 25th anniversary of the show and we saw just under 600 cars and trucks attend and roughly 3,500 guests come through the gates."
Each car visiting the show gets a collectible Gravenhurst Car Show dash plaque and the first 100 cars through the gate get a commemorative car show t-shirt. For those who register their vehicles early, there's a chance to win $500 towards a set of tires from Wayne's Tire in Gravenhurst. Guests are also encouraged to cast their vote for the top 10 People's Choice Awards.
The Vango Photo Booth will return to the event this year, offering a free photo booth in the back of a renovated VW Van. Thomas Douglas of Restoration Garage will also appear at the event.
"I'm excited to be headed up to the Gravenhurst Car Show and to get the chance to spend the day looking over these gorgeous vehicles, chatting with the guests and offering some advice on restoration techniques," Douglas said.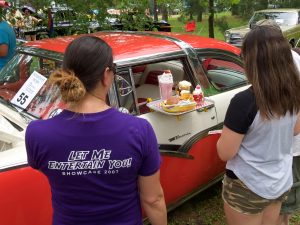 Muskoka's firefighters and paramedics will come together as well to offer a free Community CPR Clinic. Teams of paramedics and firefighters will be available to demonstrate and teach attendees the newly sanctioned "hands-only" method of doing cardiopulmonary resuscitation.
Thanks to the support of last year's visitors and sponsors, the Gravenhurst Chamber of Commerce and Car Show committee was able to donate a $500 bursary for a Gravenhurst High School graduate pursuing automotive studies. Lockhart said the car show wouldn't be possible without the hundreds of car enthusiasts who bring their cars each year and organizers are looking forward to another great event with the 26th annual Gravenhurst Car Show.
For more information about the car show, visit the show's Facebook page or the Gravenhurst Chamber of Commerce website.