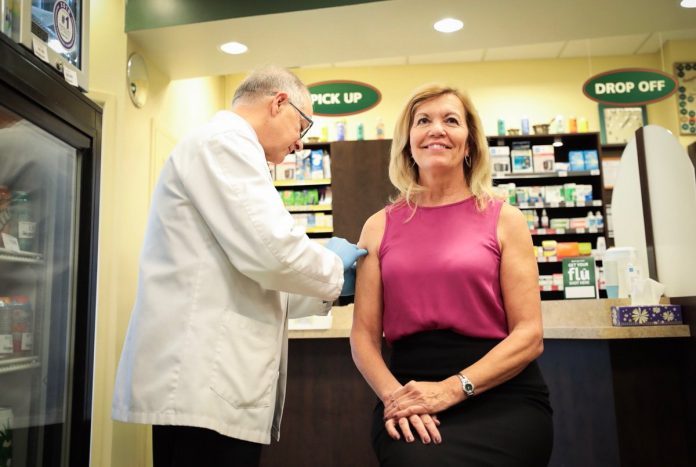 Get yours at Pharmasave Muskoka Wharf. Address: 3 – 125 Steamship Bay Road. Gravenhurst P1P 1Z9 ON. Phone: (705) 687-2828. General Fax: (705) 687-2818
It's easy and it's free #FightTheFlu
The Ontario Government is encouraging Ontario families to get their free flu shot to stay healthy and prevent hospital visits this flu season.
Today, Christine Elliott, Deputy Premier and Minister of Health and Long-Term Care, was at Snowdon Pharmacy to get her flu shot.
"The flu shot is the best defence to reduce the risk of getting and spreading the virus," said Elliott. "The vaccine is available across the province to protect you and your family. By investing in preventative measures like the flu shot, we can help save lives and reduce the strain on our system."
Getting the flu shot is safe and easier than ever. Every batch of the vaccine is tested using strict guidelines for safety and quality. The shot is available from doctors or nurse practitioners and, in most cases, from local pharmacies or public health units.
To help get the word out, Minister Elliott encouraged colleagues, community leaders and people across the province to get their flu shot and post about it on social media using the hashtag #FightTheFlu.
The flu shot protects against the most common viruses expected this season. The flu can be passed on before showing symptoms leading to doctor's visits, sometimes hospital stays or sadly, in some cases, death. This makes getting vaccinated against the flu every year an important part of keeping Ontarians healthy.
"Each year, thousands of people across the province get the flu, which puts extra pressure on our hospitals," said Dr. David Williams, Chief Medical Officer of Health. "When you get the flu shot, it reduces your risk of being seriously ill, taking time away from school, work or spending time with families."

It takes about two weeks for the vaccination to reach its full effect. Children four and under, pregnant people and seniors are particularly at risk of serious complications due to the flu. A 2018 Canadian study found that people are six times more likely to have a heart attack in the weeks after having the flu, and this risk may be higher among those 65 years and older. There were about 8,908 flu-related hospitalizations and among those, 619 deaths in Ontario last flu season.

Photo Credit: Christine Elliott