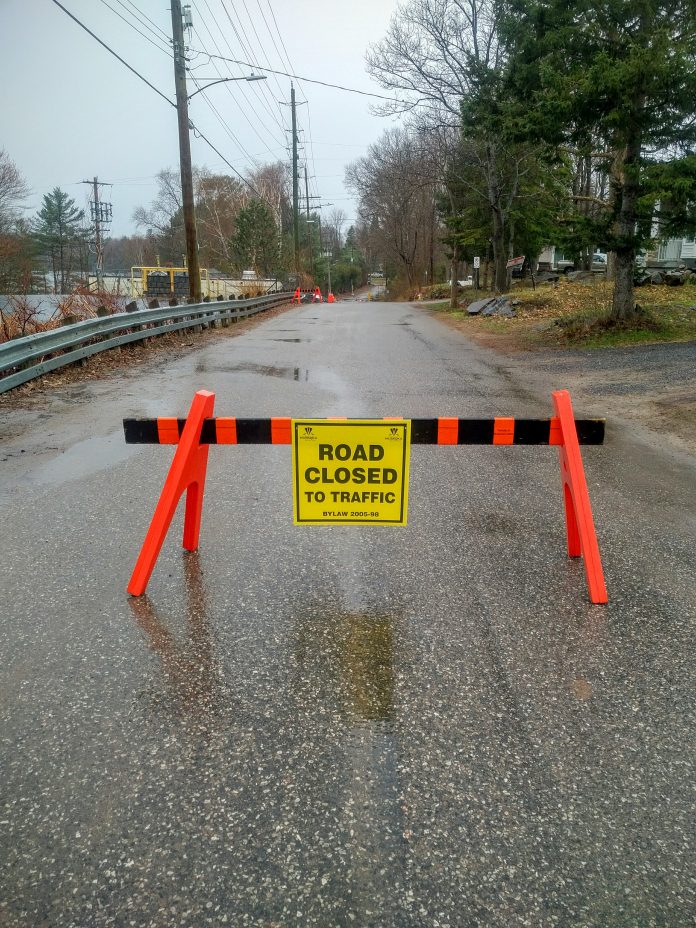 The Township of Muskoka Lakes has raised and repaired all affected roads from the recent flood to make sure conditions are safe, but the Bala Falls Bridge remains closed to pedestrian and vehicular traffic until further notice.
Ken Becking, director of Public Works, said that the township is going to have an engineer examine the condition of the Bala Falls Bridge before allowing traffic on it to ensure public safety. Becking also said he can't thank township staff enough for their hard work over the past month. The township wants to thank all those affected for their patience while those road repairs were completed. Public Works staff will continue to do their annual spring work, such as installing public docks, preparing township parks, cleaning streets and regular maintenance to roads in preparation for summer. The township is encouraging residents and contractors to help collect floating debris in the water and all debris can be dropped off at the closest municipal ramp. Township officials ask that debris be placed to avoid blocking boat ramps from use and request that residents notify the township of any debris left at these sites for pick up.
The township will issue one Waste Disposal Voucher per property in the designated areas to provide no-charge disposal of flood damaged waste at the Eveleigh Road Transfer Station and Rosewarne Transfer Station during operating hours. The voucher is valid to dispose of up to one half-ton and single-axle trailer load (or equivalent) of flood-related debris, so contact the Township Office at 705-765-3156 or recovery@muskokalakes.ca for full program details or for providing authorization for voucher pick up to an agent (Documented Proof Required).
Sand bag drop off depots are available at the Glen Orchard Yard (3951 Muskoka Road 169), Patterson Yard (1078 Raymond Road) and Ranwood Yard (1158 Ranwood Road) during the recovery phase.
The Ontario Government has activated the Disaster Recovery Assistance for Ontarians (DRAO) program for the Township of Muskoka Lakes to provide financial assistance to eligible applicants affected by flooding. For further information on the DRAO program, residents can attend one of the two presentations by Ministry of Municipal Affairs and Housing staff at the Bracebridge Sportsplex at 6:30 p.m. on June 11 and at the Huntsville Civic Centre Algonquin Theatre at 7:00 p.m. on June 12. After the presentation, residents will have an opportunity to speak with staff from the ministry and ask questions.
For further information on sessions hosted by the Ministry of Municipal Affairs and Housing, contact the municipal office at 705-765-3156. Residents requiring information regarding the 2019 Flood are encouraged to visit the Township of Muskoka Lakes website for resources.