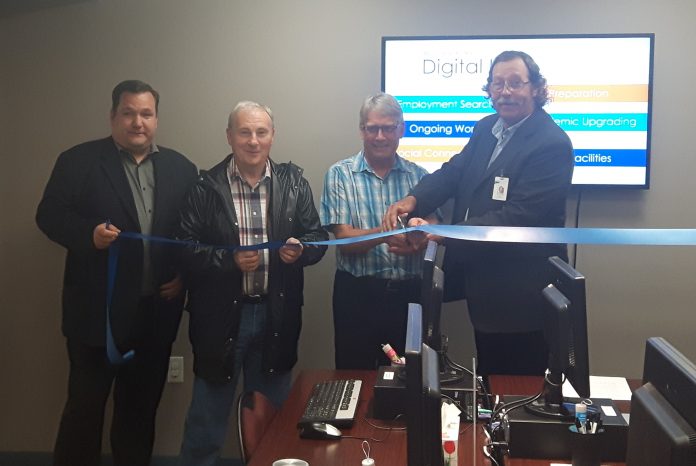 Parry Sound, and South River, MPP Norman Miller and Chair Rick Zanussi were on hand to assist the District of Parry Sound Social Services Administration Board in helping more people connect to employment.  MPP Norm Miller and the DSSAB are proud to announce the opening of the new community Digital Labs located in the main DSSAB buildings in Parry Sound and South River. 
These labs will assist citizens in accessing resources to seek employment, academic upgrading, job preparation and job searching.  Each location is equipped with six work stations, printing and free Wi-Fi access. Resource staff are available to support citizens with navigating sites to support employment, social and education needs. They encourage all members of the public to check out these free labs.  
The labs are located in Parry Sound on Beechwood Drive and in South River on Toronto Avenue, at the DSSAB regional offices. The labs will be open Monday to Friday, 8:30 a.m. to 4:30 p.m.  Seats are available on a first come basis with priority given to employment programming.
The first workshop on Budgeting is taking place on Thursday, August 8, 2019 starting at 10 a.m.  The DSSAB will be hosting sessions on Employment 101 among other workshops to be announced at a later date. 
"The Board would like to thank MPP Norman Miller for his support in making this project viable." says Board chairman Rick Zanussi.  "The Digital Labs have been a simple transformation that will have significant impact on the citizens we serve" he adds.  
"I am pleased to see the Parry Sound DSSAB help more people connect to employment and community resources.  The free digital labs are a first step in helping more people get back to work." said MPP Norman Miller.