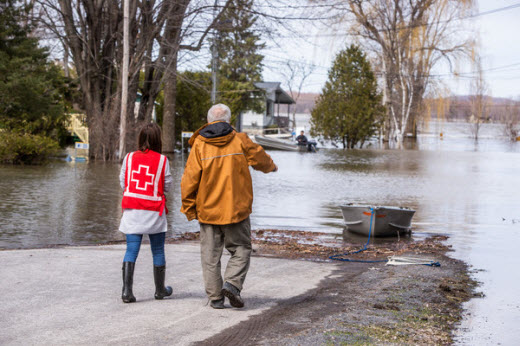 The Town of Bracebridge is currently experiencing a rainfall event. The Town continues to experience historically high flood elevations. Residents are encouraged to take precautionary measures to ensure life safety. Individuals affected by flooding are reminded to check in and update 211 on their situation.
This morning, The Honourable Steve Clerk, Minister of Municipal Affairs and Housing, will be activating the Disaster Recovery Assistance for Ontarians (DRAO) program to assist local residents with basic cost recovery for specific flood related expenses. More information for this program can be found on the DRAO website and will be provided on the Town website.
An additional 100 Canadian Armed Forces Reservists arrived yesterday, for a total compliment of 200 troops in the area, to further assist with the flood emergency response efforts. Additional equipment will arrive today to assist efforts. Troops will continue with sandbagging activities and the provision of equipment and resources to support first responders with wellness checks and evacuation efforts.
Town Staff with the assistance of the Canadian Armed Forces engineers are undertaking reviews of Town infrastructure throughout flooded areas to ensure their integrity.
As announced yesterday, the Minister of Transport issued an Interim Order expanding areas in which navigation is prohibited in specific areas of flooding. This new Interim Order applies to the following waterways; Lake Muskoka; the North and South Branch Muskoka River; and the Moon River. If any individual must use a waterway to access a property, they are urged to navigate safely and as slow as possible. For more information please read the full News Release from Transport Canada.
The OPP Marine Unit will be patrolling waterways to ensure compliance with this Interim Order, further information regarding enforcement will be provided from the OPP as required.
Beaumont Drive is stable and remains open to local traffic only. It is being monitored on an ongoing basis and will be closed should it become unsafe at any point. Santa's Village Road remains closed in the area of Leslie Drive.
Fraserburg Road remains closed and Town Officials are asking everyone in the area to contact 211 and provide an update on their situation. Town Officials with the assistance of the Armed Forces will be crossing the closed portion of Fraserburg Road today to undertake wellness checks on individuals who have stayed in the area.
For more information on District of Muskoka road conditions, please click on this link: District Road Closures and Delays
Town Officials are reminding all members of the public that it is illegal to travel on roadways marked as closed.  The integrity of closed roads cannot be guaranteed and may pose a hazard. For more information on road conditions, please click on this link: Road Status Update.
All town water-side parks, access points and trails are closed until further notice to help ensure public safety during the flood emergency.
While the flood emergency is ongoing we understand some residents are beginning to look at recovery and clean up. The Town is working closely with the District of Muskoka for a coordinated effort for solid waste disposal. More information will be provided as soon as it is available.
The Drinking Water Advisory issued by the Simcoe Muskoka District Health Unit for the affected areas remains in place. Residents are advised that properties in flooded areas using well water should assume the water is not potable. Municipal water sources are not affected by this advisory. Water filling stations can be accessed in Bracebridge at 336 Ecclestone Drive, and for those on the Alport side of the Beaumont Drive flooding at 1601 Beaumont Drive (Kirby's Beach water treatment plant). A complete list of Municipal water sources available through the District of Muskoka is available by following this link: Public Water Taps/Source Locations.
REMINDER: Sandbags are available free of charge at Fowler Construction (1206 Rosewarne Dr.) for Bracebridge properties who have been affected by flooding. Sandbags are available 24 hours a day, 7 days a week.
For life safety emergencies call 9-1-1 – Stay Back from all Water Courses.