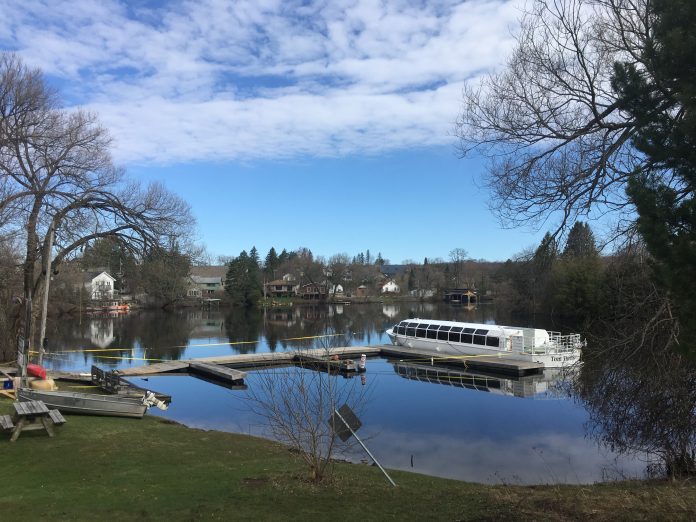 Conservative Party nomination candidate Holly Thompson, a Bala resident and accountant, released a plan for flood prevention and watershed management, sharing her ideas for how to prevent the sort of severe flooding experienced in Muskoka this year.
Thompson's plan has three parts including the development of a new watershed flood plan, the review and upgrade of existing infrastructure like dams and bridges, and the development of a new flood safety and damage mitigation program. Thompson's proposed update to the Muskoka River Water Management Plan would make use of current flood mapping, weather and climate data from recent years including the 2013 and 2019 floods, and satellite imagery of water levels and snowpack. Thompson said all such information should be made available to the public for community consultation to help protect against devastating floods in the future.
"We need action now! This year's devastating flooding was the second 'hundred-year flood' in six years," Thompson said. "I was inspired by how the community came together to combat the floods and the support provided by our first responders and our hardworking Canadian military. It's now time for all levels of government to come together with the community to ensure proper preparations are made."
Thompson said responsibility and accountability are fundamental to her plan as the community shouldn't have to go through this every few years, adding that her own home was evacuated for several days as water levels rose. Her plan for an infrastructure review includes the examination of the Watershed's 42 existing water control structures, dams and dykes as well as existing roads, bridges and culverts, keeping local hydroelectric commitments and boating and swimming safety considerations in mind as well. Population density and future building construction plans in flood plains will also be considered, according to Thompson.
The safety and risk mitigation program under Thompson's plan aims to establish an early warning system, rescue plans, sandbag depots, water quality monitoring and other emergency measures such as the consideration of  revisions to building codes to ensure clean water is not compromised. The plan would consider subsidizing homeowners in the most vulnerable flood locations, Thompson said, and ensure adequate funding is in place for sandbag removal and disposal so that homeowners and local municipalities are not left to cover all of the costs from flooding.
"Clean, safe water is a human necessity, and clean water for swimming, boating and fishing is also a critical part of our local economy," Thompson said. "Ensuring we protect the watershed means not only protecting our homes and our health, but our local economy, tax base, jobs and property values."
Thompson said that while she has consulted widely in developing her outline, she welcomes community input on the plan. To contact Holly Thompson or to get more information about her campaign, please visit Thompson's website.