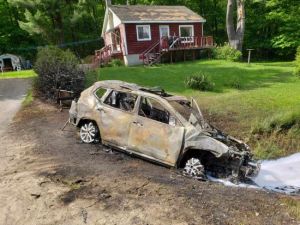 More to this story we first told you about yesterday.
On Wednesday June 12, 2019 at around 3:20 p.m. Bracebridge OPP, Muskoka Lakes Fire Department and Muskoka Paramedic Services responded to Highway 141 and Skeleton Lake Road 5 for a two vehicle collision. When crews arrived, they found an SUV fully engulfed in flames.
Paramedics transported a Mother and Daughter to Hospital with injuries not serious in nature as a result of the collision.
No word on charges or a cause of the crash.