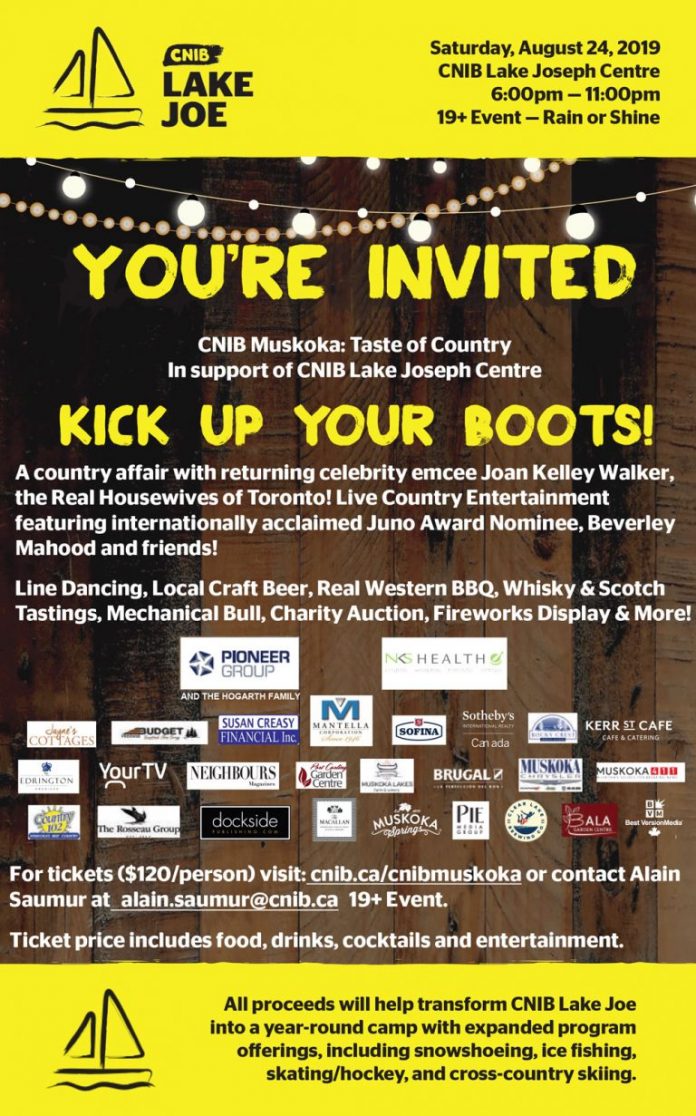 CNIB and the Lake Joe Vision Team proudly present their signature fundraising event for 2019, CNIB Muskoka: A Taste of Country.  On Saturday, August 24, 2019, at the majestic CNIB Lake Joseph Centre, desperados, coal miner's daughters and high plains drifters will show true grit at this heel-burner!  Outlaws and bravados will swing and do-si-do to the sounds of live country to benefit Lake Joe, CNIBs centre for children and young-at-heart who are blind or partially sighted.
"CNIB Lake Joe empowers people impacted by blindness to live the lives they choose.  Funded by charitable donations and enabled by the selfless contributions of volunteers, our innovative programs and powerful advocacy are changing what it is to be blind," says Monique Pilkington, Executive Director, CNIB Lake Joe. "Together, we're enriching lives, making memories and building independence on the shores of Lake Joe."
The good, the bad, and the glamorous will gather at Lake Joe (4 Joe Finley Way, MacTier, ON) from 6:00 p.m. to 11:00 p.m. for a raucous evening of line dancing, mechanical bull riding, western BBQ, and world-class entertainment courtesy of Juno nominee Beverley Mahood and friends.  The night will be emceed by fabulous celebrity host Joan Kelly-Walker (Real Housewives of Toronto).
Guests can enjoy a crisp local craft beer, participate in an informative and delicious whisky tasting, create a custom concoction at the build-your-own-Caesar station, and bid in the live and silent auctions on a variety of marvelous items from CNIB's generous sponsors.  The unforgettable evening will conclude with a dazzling fireworks display.
CNIB Muskoka: A Taste of Country is open to guests 19 and over and all proceeds will support CNIB Lake Joe.  The camp, which has been a pillar in the Seguin Township community for nearly 60 years, is a tremendous resource for youth who are blind or partially sighted, providing more than 1000 participants each summer the opportunity to engage in timeless Canadian outdoor activities.
The funds raised will help transform CNIB Lake Joe into a year-round camp by raising $3 million for the redevelopment of 'The Elms Gathering Place', a multipurpose training, teaching and activity centre.  The redesigned 2,400 square-foot facility will accommodate recreational activities (including snowshoeing, ice fishing, skating/hockey, and cross-country skiing), peer-support groups, collaborative meetings and daily life-skills training sessions.
Tickets can be purchased and donations can be made online.  CNIB humbly recognizes the contributions of all the generous sponsors and organizations that have helped make this special night possible.