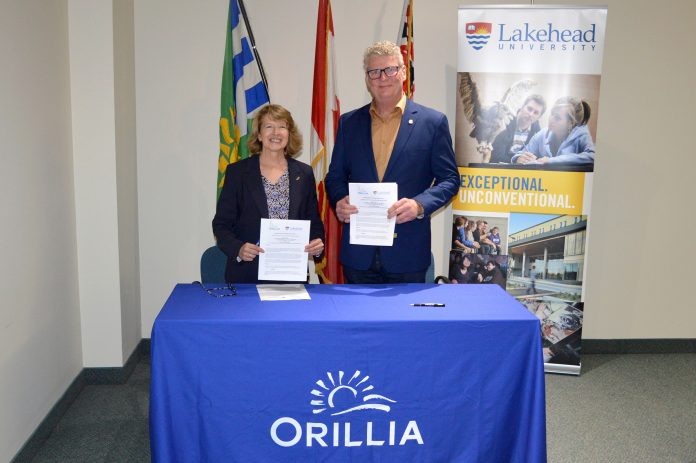 The City of Orillia and Lakehead University have formalized their commitment to ongoing collaboration through a Memorandum of Understanding (MOU), which was signed by Orillia Mayor Steve Clarke and Moira McPherson, president and vice-chancellor of Lakehead University, in the Orillia Council Chamber on June 5.
A MOU is a formal agreement used to establish official partnerships and recognize common goals between parties. The MOU between the City of Orillia and Lakehead University outlines how they will use their existing and future relationships to achieve their shared goals. The MOU details areas of possible collaboration between the city and university, such as policy development, funding opportunities and entrepreneurship, and international engagement and advocacy with other levels of government. Orillia Council ratified the approval of the MOU with Lakehead University at its meeting on June 3.
"The City of Orillia and Lakehead University have a well-established, positive relationship that is further reinforced through this MOU," Clarke said. "Formalizing this relationship enshrines our joint commitment to identify and pursue strategic opportunities for collaboration, partnerships, innovation and incubation. We look forward to the many positive impacts this continued collaboration will have on the Orillia community and broader region."
Lakehead University has 82 full-time staff and faculty and 1,350 students who live and work in the community. The collaboration between the university and the city dates back even before the Orillia campus opened in September 2006.
"The people and City of Orillia have worked with Lakehead University to create post-secondary opportunities for this region even before we broke ground and opened our doors in Orillia," McPherson said. "This MOU formalizes our mutual desire to collaborate further and establish a strong and active partnership that benefits students, faculty, the business community and residents."