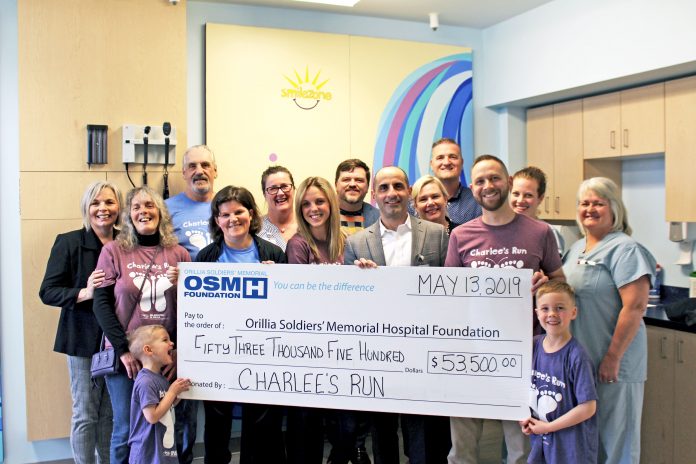 The 3rd Annual Charlee's Run was an incredible success, raising $53,500 for babies and children at Orillia Soldiers' Memorial Hospital (OSMH). The run, which took place at Couchiching Beach Park on April 27th, is named in memory of Charlee Clare Holmes, who passed away after birth at OSMH. More than 400 runners and volunteers gathered to spread awareness on prenatal and infant loss, as well as raise funds for the Hospital's Neonatal and Paediatric Units.
"We are once again overwhelmed by the support this community has shown, not only in raising funds but in helping us shatter the silence surrounding pregnancy and infant loss," said organizers and Charlee's parents, Mallory & David Holmes. "Thank you to everyone who helped us reach this amazing milestone, whether it be by sharing our posts, telling your friends, donating, registering or braving the snow for us."
With this year's fundraising efforts, Charlee's Run has raised an incredible $151,000 for Paediatric and Neonatal needs at Orillia's Hospital. This year, the funds will go directly towards the purchase of a Bereavement Cart, which is a trolley 100% dedicated to Grief Support and Bereavement, used in the Hospital's Neonatal and Birthing Units. Furthermore, funds will also support the purchase of a Central Patient Monitoring System for the Hospital's Paediatric Unit, which will allow for continuous monitoring of a child's condition at the nursing station.
"We are truly floored at the incredible impact Charlee's Run continues to have on the care for babies and children at our Hospital, as well as the conversation surrounding Prenatal and Infant Loss," said Lisa Wanamaker, Major Gifts Officer, OSMH. "We cannot thank Dave and Mallory enough for organizing Charlee's Run, as well as all of the volunteers, sponsors and participants who made it possible. Their dedication to this important cause is truly inspiring."
To learn more about Charlee's Run and their efforts to break the silence on prenatal and infant loss, please visit their website at www.charleesrun.com.