Canadian Blood Services exceeded their donation goal at the Huntsville blood drive on April 22 and now they're looking to fill 50 openings at the upcoming Bracebridge drive on April 29.
The blood drive in Huntsville was held at Faith Baptist Church from 2 to 7 p.m. The goal for the event was to collect 120 blood donations, but the drive surpassed the goal with 143 donations. The upcoming event at the Bracebridge Sportsplex from 2 to 7 p.m. on April 29 has 50 openings left to fill. Canadian Blood Services operates blood donation events in Huntsville, Gravenhurst and Bracebridge, and Muskoka has always been a supportive donor base for Canadian Blood Services, said Elaine St. Pierre, Canadian Blood Services territory manager for Barrie, Muskoka, Simcoe, Dufferin and Grey.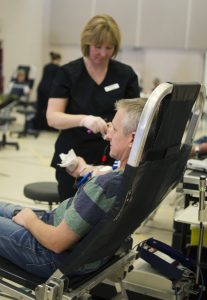 "We were well booked heading into the day but because it was a long weekend, we always have our fingers crossed that donors will keep their appointments," St. Pierre said. "I'm very happy to say that 158 potential donors attended and we collected 143 blood donations! Those extra units will help to ensure that we can meet hospital demand in the coming days."
The goals for each event are based on the capacity the service has to collect blood at the venue, how many hours the event runs and how many beds are set up. St. Pierre said the need for donations never stops, regardless of holidays, and that sometimes the need can actually be greater over long weekends when things like car accidents increase with extra traffic on the roads.
"It can take up to 50 donors to help someone in a car crash," she said. "That's what is so great about the donors in Muskoka. One might expect that during the summer, in particular, everyone is in 'vacation mode' and there's a tendency to think that if you missed your appointment, there will always be someone there to take your place, but that's not often the case, so it really speaks to the level of commitment of these donors."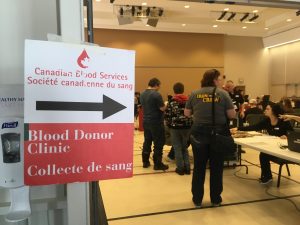 Canadian Blood Services works to ensure that the national inventory they operate has at least 20,000 units on hand to meet hospital demand and patient need across the country. Along with reaching their collection goals, it's important for the service to continuously attract new donors to join Canada's Lifeline, St. Pierre said.
"New donors are the future of Canada's blood system," she said. "Last year in Muskoka, 7 per cent of our collections came from first time donors. We need that rate to be approximately 11 per cent, so if you've always thought about donating, perhaps now is the time to give it a try!"
To book an appointment, locate a donation event, check your eligibility, and more, download the GiveBlood app, call 1 888 2 DONATE (1 888 236-6283) or visit www.blood.ca.