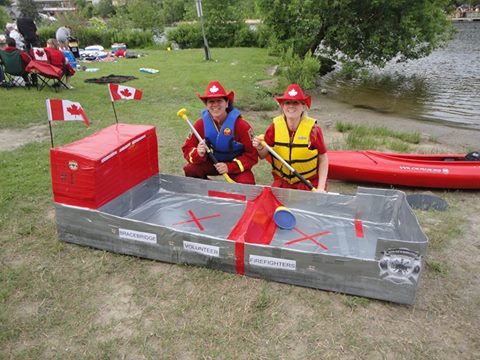 Here is something great to do for either family, friends or companies.
This July 1 as part of the Rotary Club of Bracebridge's Canada Day Celebrations, there will be "The Great Canadian Cardboard Boat Race". You and your team must build a boat out of cardboard and duck tape and race it at Bracebridge Bay. There will be prizes for First Place, Second and Most Unique Boat. The event is free to register and fun to build and race.
RULES AND REGULATIONS
1. Boat construction: Cardboard may be covered with paint or sealants such as Flex Seal. No wood, metal, or plastic permitted in construction. Binding material such as duct tape or contact cement is permitted.
2. MANDATORY two persons per boat.
3. Minimum age is 14 years old. Competitors 14-17 must have parent/guardian permission.
4. Required equipment: PFD for each person; standard small craft safety kit (floatable rope; whistle; flash light; bailing device). One Single blade paddle per person.
This event is proudly sponsored by Progressive Waste Solutions
To register your boat or for more information visit www.bracebridgefireworks.com and click on cardboard boat race