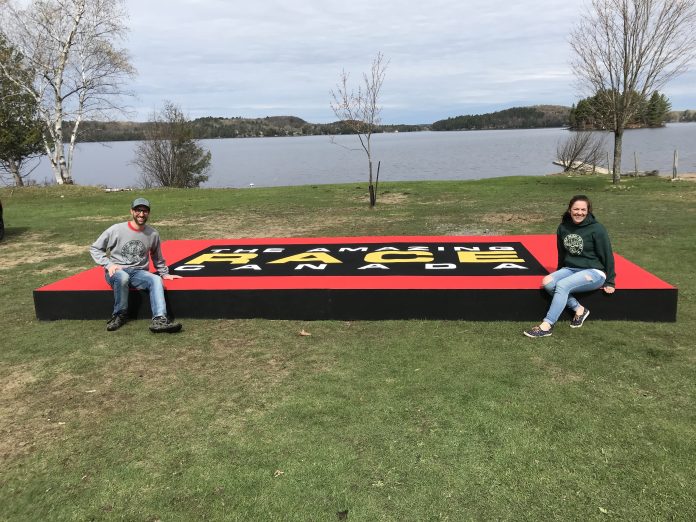 Anthony & James from Edmonton raced to the finish line in beautiful Muskoka to win the title of The Amazing Race Champions
Camp Mini-Yo-We, located on Mary Lake just
outside of Huntsville, is where Anthony & James beat out ten teams over 11 episodes,
earning the coveted title as The Amazing Race Champion for the seventh season!
"It was so exciting that our location was selected for this first time that The Amazing
Race has been in Muskoka! We think our property is pretty special, but this is a huge
validation from the producers of this show!" said Jez Bell, Director of Outdoor Center
from Camp Mini-Yo-We.
Season 7 of The Amazing Race Canada premiered on July 2, 2019 and was the mostwatched entertainment series broadcast this summer with an estimated two million viewers. Choosing locations to film for such a high-profile show is a meticulous process. Camp Mini-Yo-We was selected to be featured as part of the epic finale because of the gorgeous views and classic Canadian camping experience that it provides.
"Camp Mini-Yo-We was the perfect location for a finale on The Amazing Race Canada.
We always seek out locations that are private so that we can keep the results secret until September, and so it's a bit tough to find for the racers," said Jon Montgomery, the longtime host of The Amazing Race Canada. "Camp Mini-Yo-We provided this and more – the wood cabins and main lodge were beautifully contrasted by the sandy beach and lake-front vista provided by the scenic location of the camp. We couldn't have asked for anything more!"
During the summer months, Camp Mini-Yo-We provides life-changing adventures for
children ages 5-16 while building friendships and trying new activities such as canoeing,
mountain biking, sailing and more. It's an amazing and unique opportunity for today's
busy kids to get away and unplug, while young adults ages 17-25 develop essential
Page !1 of !2
leadership skills that extends past their summer experience and well into their adult
lives.
Throughout the rest of the year, Camp Mini-Yo-We hosts school groups, business
retreats and other clubs and organizations. The leadership at Mini-Yo-We provides
customized experiences that include team building initiatives and the chance to try over
16 different activities that aren't typically available in a business or school setting.
From September to June, Camp Mini-Yo-We accommodates up to 128 guests at one
time with state-of-the-art winterized facilities, meeting space and delicious food all in
the heart of the Canadian Shield. For the year-round staff at Camp Mini-Yo-We, The
Amazing Race Canada Season 7 finale was a highlight and provided a memorable
experience for all.
The Amazing Race Canada Season 7 finale aired earlier tonight at 9 p.m. ET/PT on CTV
and is now streaming anytime on CTV.ca and the CTV app.