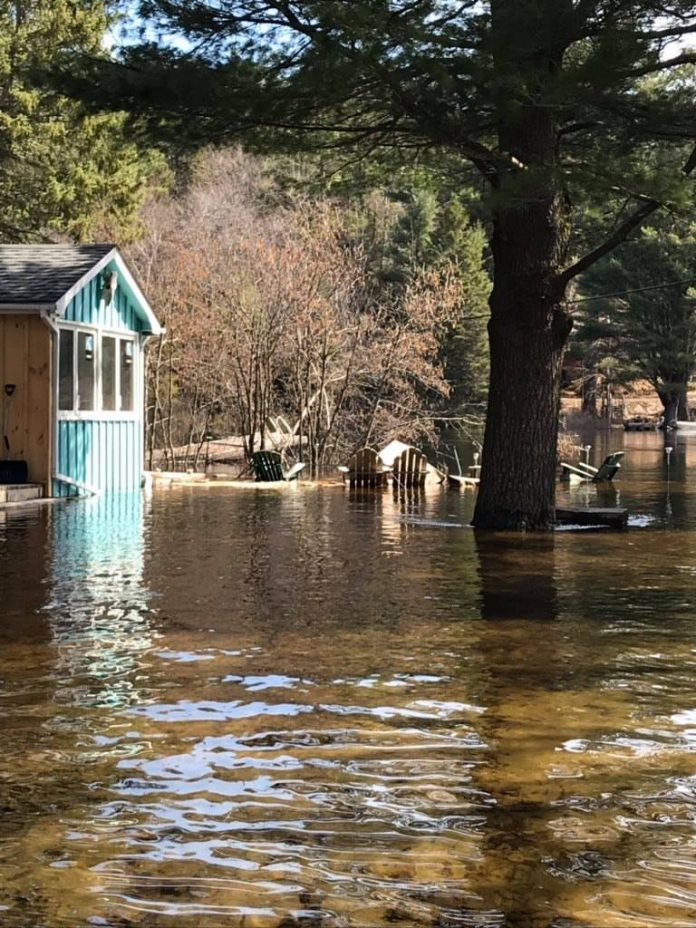 A significant rainfall warning has been issued for the Town of Bracebridge, so as water levels and flows remain high in the area, the town wants to remind residents take precautionary measures to ensure their safety, according to an announcement from the town on April 25.
Properties that have experienced flooding in the past should expect similar or worse conditions and take appropriate measures to ensure their personal safety and security of their property. The town asks that docks and waterfront structures are securely affixed to shore or removed if it is safe to do so. Residents are encouraged to have supplies to support all members of their household for at least 72 hours, according to the announcement. The Simcoe Muskoka District Health Unit has issued a Drinking Water Advisory for the affected areas and residents are advised that properties using well water in flooded areas should assume the water is not potable. Water filling stations can be accessed at 336 Ecclestone Drive and 1601 Beaumont Drive (Kirby's Beach water treatment plant).
Roadways marked as closed are not to be passed as the integrity and safety of the road cannot be guaranteed and may pose a hazard, according to the announcement. The Public Works Department continues to monitor road conditions for flooding and is making repairs where necessary.
Individuals displaced by flooding that require assistance with emergency accommodation can contact the Red Cross Personal Support Assistance Number at 705-715-8138, Muskoka Victim Services at 1-844-762-9945 or call 211. Individuals whose access to their homes is impeded by closed roads can contact 211 to provide information with respect to their situation.
The town encourages residents to share all of the details regarding the flood emergency with those who do not have access to internet or radio. The town also wants to remind residents that sandbags are available for free seven days a week at the Fowler Construction Scale House at 1206 Rosewarne Drive in Bracebridge.
Property owners are encouraged to contact their property insurance providers regarding flood damage claims. The Disaster Recovery Assistance for Ontarians (DRAO) is a program that can help residents recover costs after a natural disaster and the province may activate DRAO for damage to private property if there's a sudden, unexpected natural event, such as a flood or tornado that causes costly and widespread damage in an area.
Seasonal residents wishing to check on their properties are encouraged to wait until the flooding emergency has ended to visit their property.
More information about the DRAO is available here. For more information on road conditions, click here.