Canadian novelist and short story writer Anthony De Sa spoke at the inaugural meeting of what is now known as the Muskoka Authors Association (MAA) in October 2014, and this month, he's making his return to Bracebridge and the MAA to talk about his newest work.
When De Sa came to Bracebridge in 2014, he discussed his debut novel, Kicking the Sky, which tells the fictional tale of a 12-year-old boy's experience in the aftermath of the murder of Emanuel Jaques. The story is based around the real death of Jaques, who was raped and killed in 1977. De Sa will return to Bracebridge on July 18 to talk about his second novel, Children of the Moon. The novel, which was released in May this year, tells the story of an outsider from Tanzania and an outsider from Mozambique that come together during the revolutionary and civil wars of the 1960s and '70s. His first book Barnacle Love was shortlisted for the Scotiabank Giller Prize and his second book, Kicking the Sky, became a national bestseller.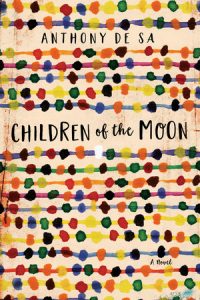 "Anthony is a gifted storyteller and charismatic speaker," said a statement from the MAA. "If you've never heard him speak, don't miss this opportunity, if you have heard him, you're no doubt already hooked."
De Sa grew up in Toronto's Portuguese community. He graduated from the University of Toronto and did his post-graduate work at Queen's University. He also attended the Humber School for Writers and Ryerson University. He currently heads the English department and directs the creative writing program at a high school for the arts while living in Toronto with his wife and three sons.
De Sa will appear in Browning Hall at St. Thomas Anglican Church in Bracebridge with doors opening at 6:30 p.m. and the meeting beginning at 7. The event is free for MAA members and costs $20 for non-members.
Register online at the Muskoka Authors Association website or contact David Patterson at 705-999-1313 or at david.patterson@alumni.utoronto.ca.