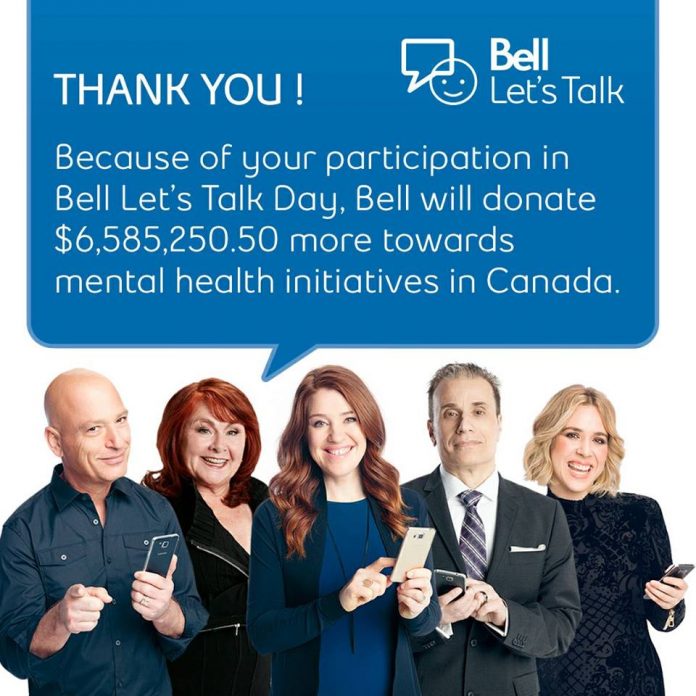 With 131,705,010 total messages of support – and $6,585,250.50 more funding for Canadian mental health
Bell Let's Talk Day 2017 is one for the record books with 131,705,010 total messages of support – and $6,585,250.50 more funding for Canadian mental health
Clara Hughes leads the biggest mental health conversation ever from Canada to the world
Social media engagement on Twitter, Snapchat, Instagram, Facebook more than triples
Royalty, political leaders, sports heroes, corporations and competitors, entertainers and other celebrities in Canada and around the globe embrace the cause
On the way to $100 million: Bell's total donation to mental health now at $86,504,429.05
It's official! Bell Let's Talk Day 2017 has set all-new records with unprecedented participation in Canada's national conversation about mental health, the largest of its kind in the world. People in Canada and around the globe joined with Clara Hughes and the Bell Let's Talk team to talk about mental health like never before.
"Wow Canada! Thank you! We've shattered records again with a mental health discussion that reached every corner of Canada and points all around the world too. We keep on knocking holes in the dark wall that is stigma, and we keep on growing funding for new research and expanded care as the engagement builds and builds," said Clara. "It's amazing to see the passion and positivity all around as we speak openly about the impact of mental illness on each of us. I've talked to so many people whose lives have been made better by our conversation, and I pass their thanks to you. Because you make it happen!"
Over the 28.5 hours from midnight Newfoundland time to midnight Pacific time, there were 131,705,010 total Bell Let's Talk interactions, including texts, mobile calls and long distance calls by Bell customers, tweets using the #BellLetsTalk hashtag on Twitter, views of the Facebook Bell Let's Talk video, Instagram posts using the #BellLetsTalk hashtag, and Snapchats with the Bell Let's Talk geofilter – a 4.6% increase over the 125,915,295 total on Bell Let's Talk Day 2016.
With Snapchat and Instagram joining Twitter and Facebook as Bell Let's Talk partners, total social media interactions almost tripled, from 7,409,845 messages of support in 2016 to 22,008,855 this year. #BellLetsTalk was the top Twitter trend in Canada and worldwide.
Bell donates 5 cents per interaction, at no extra charge to participants, so the result is a further $6,585,250.50 in funding for Canadian mental health programs.
"On behalf of everyone involved in Bell Let's Talk and all those the initiative supports, I'd like to convey our immense gratitude to everyone who participated in a day of such wonderful progress for Canadian mental health," said Mary Deacon, Chair of Bell Let's Talk. "To Clara and team, to all the partners who helped carry the message forward, to the students who led the charge at campuses nationwide, to all of you who shared your time and your stories: your passion for the cause is making all the difference for people who struggle with a mental illness in their lives and all those who support them. Thank you everyone!"