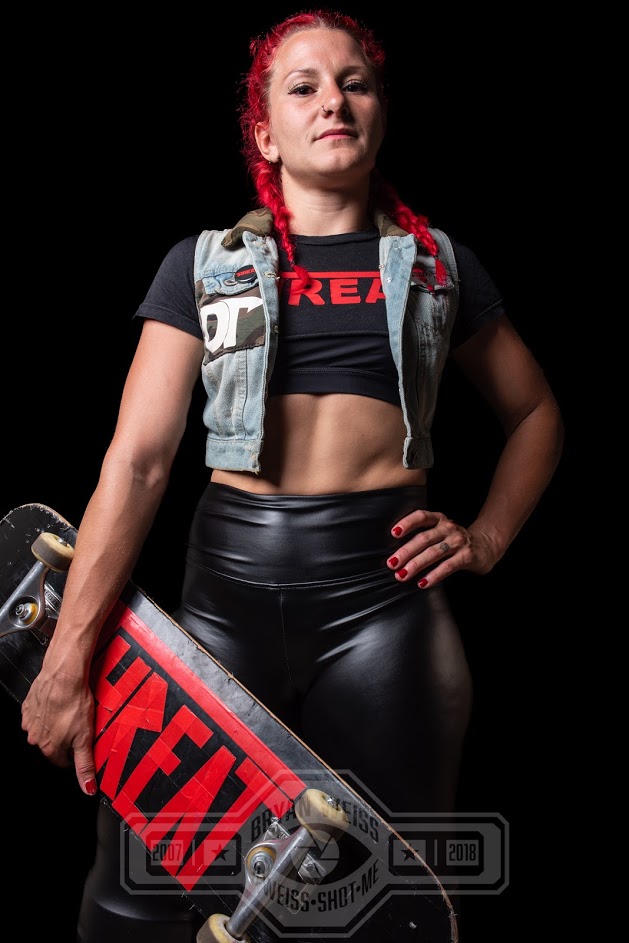 This is the second of a series of interviews with competitors for the upcoming professional wrestling event Mariposa Mayhem, presented by Smash Wrestling and Barrie Wrestling on April 20 at the St. Paul's Centre in Orillia.  For more information head to the Facebook Event page or to Smash Wrestling's website.  For the interview with Tyson Dux, click here.
Name: Jody Threat
Height and Weight: 5'4″ and 160 pounds of wildness
Hometown: Hailing from your local skate park (also Toronto)
Wrestling Accolades: Inaugural and reigning Barrie Wrestling Women's Champion
Wrestling Experience: About a year-and-a-half
Signature Moves: F-416 (also known as an "F-5"), double knee attack into a bridging German suplex, spear, and a stalling jackhammer (suplex into a bodyslam)
Aside from wrestling, what other sports have you played?
Skateboarding, snowboarding, rugby, soccer, field hockey, ice hockey, volleyball, and baseball.
What gave you the desire to be a wrestler, and has there been a moment in your career where you realized "I can do this"?
In November 2016, I walked into a local independent wrestling show and within ten minutes, I knew I needed to be a wrestler.  The moment I knew I could do this was when I survived and won my debut match.
You've already accomplished a lot in a short time as a professional wrestler, what goals do you have for the Ontario Independent Wrestling scene?
To be considered one of Ontario's top contenders, regardless of gender.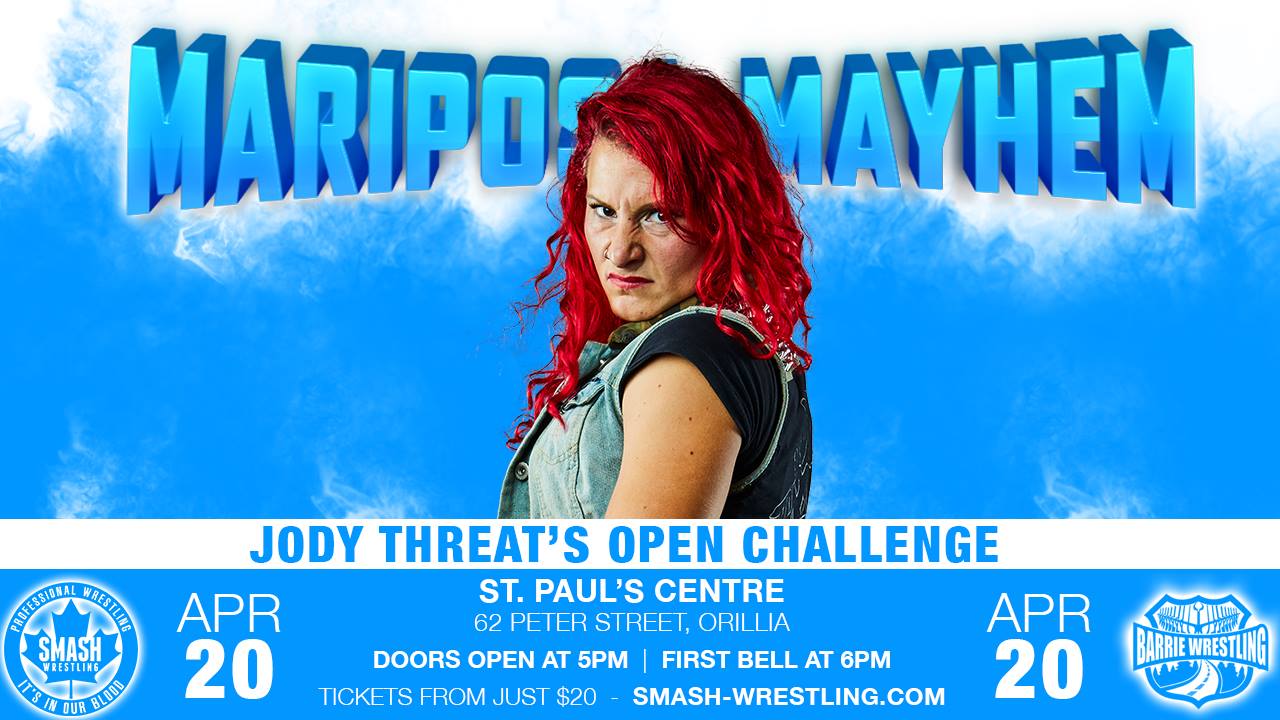 What should the fans in Orillia expect from a Jody Threat match?
The fans should expect hard hitting, kamikaze wildness.
What is your favourite match that you've had either in Barrie or with Smash Wrestling?
My last match against Veda Scott (March 24th at Smash Wrestling's "Tell All Your Friends" show in Toronto).
Do you have any experiences or memories involving Orillia (either as a wrestler or otherwise)? 
My favourite memory of Orillia is one from when I was about 10. My family and I were visiting a family friend, and they brought my Pops and I to a local fishing spot and we landed something like 26 bass in just a few hours. It was nuts.
As an active wrestler, how has the recent growth in women's wrestling affected you? Do you see changes in the way fans, and other wrestlers, view women's wrestling?
In the short time I've been in the wrestling business, I've noticed an increase in opportunities for women in wrestling. More promotions are creating women's divisions, with Barrie wrestling being one of them. Women seem to be recognized and respected more for their athleticism and ability in the ring, rather than their looks and sex appeal.
What is one piece of advice you would give to any younger women and girls who are looking to become a wrestler?
Don't be afraid of muscles.  Muscles provide protection from the beating your body takes in the ring.
In Orillia on April 20, you are holding an open challenge. How do you prepare for a match against an unknown opponent?
I prepare by ensuring my body is functioning well, through nutrition and fitness. Also, spending time in ring training with a variety of other wrestlers (all genders, shapes and sizes).
You can catch Jody Threat's open challenge and all of the other stars of Smash Wrestling and Barrie Wrestling live on April 20 at the St. Paul's Centre (62 Peter St. N, Orillia), for more information head to the Facebook Event page or to Smash Wrestling's website.