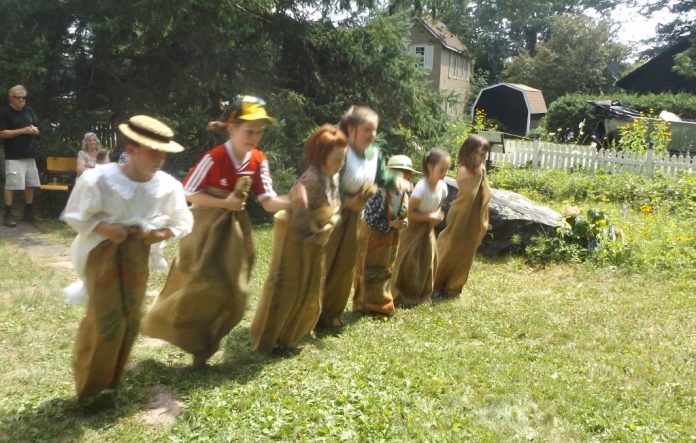 Bala's Museum with Memories of Lucy Maud Montgomery is celebrating its 25th anniversary this Tuesday, July 25th, with a lawn party and old-fashioned fun for families.  That includes egg-on-a-spoon races, sack races and 3-legged races,  pea shooting contest plus free popcorn and cake.
The lawn party begins at 1:30 p.m.  Youngsters are encouraged to dress up as characters from the Anne of Green Gables story because there will be prizes for the best costumes.  At 2 p.m. a vintage car will arrive with Lucy Maud Montgomery, the author of Anne of Green Gables, and her minister husband, re-enacting the arrival of Montgomery at Bala in 1922.
Lucy Maud Montgomery's two-week summer vacation in Bala inspired her to write a love story called The Blue Castle, which takes place on an imaginary island in  Muskoka.  It was the only one of her 22 books not set in her beloved Prince Edward Island.
Jack and Linda Hutton, co-owners of Bala's Museum, discovered the link between L.M. Montgomery and Bala following a honeymoon in P.E.I. in 1990.  They purchased the former tourist home in Bala which served meals to Montgomery and her family and restored it back to the 1920s.  The museum offers guided tours in costume to young fans of Anne and has been called the best Anne of Green Gables museum in Canada.
The normal admission price of $5.99 per person ($19.99 for a family of four) includes the lawn party and tours of the museum following the program.  The museum, which opened in July, 1992, has just received heritage status.  The heritage plaque from the Township of Muskoka Lakes will be on display for the first time.
Bala's Museum is located at 1024 Maple Avenue in Bala, which is the intersection of Maple Avenue and River Street.   Outside the museum is a  buggy similar to the one that carried Matthew Cuthbert and Anne Shirley to Green Gables.