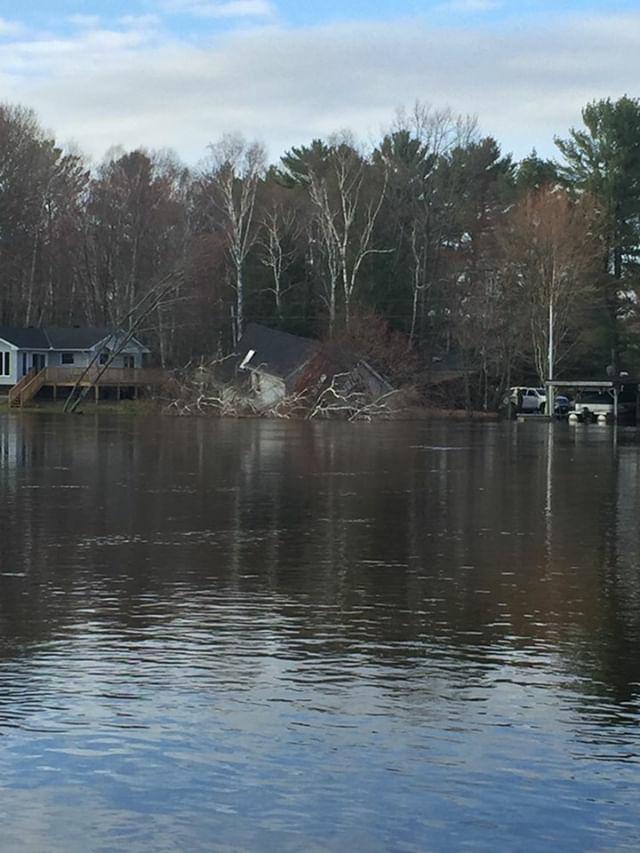 An additional 60 troops and two armoured vehicles are being deployed to Bracebridge for navigation of narrow roadways, joining the 100 Canadian Armed Forces Reservists currently assisting with the flood emergency response efforts in the area.
Troops will continue to assist with sandbagging activities along with the provision of equipment and resources to support first responders and evacuation efforts, according to the Town of Bracebridge. The town continues to experience historically high flood elevations and is encouraging residents to take precautionary measures in light of a rainfall warning that has been issued for tomorrow. There is also a significant amount of debris in the water as a result of flooding, making waterway navigation unsafe, so town officials are advising the public to stay off waterways to ensure safety and reduce further damage to shoreline properties.
While the flood emergency is ongoing, town officials said they understand some residents are beginning to look at recovery and clean up. The town is working with the District of Muskoka on a solution for solid waste disposal and more information will be provided as soon as it is available.
The area near a shoreline washout on a portion of Santa's Village Road has been secured and district staff are monitoring the integrity of the roadway to ensure public safety. Shoring activities will be taking place today to stabilize the area and avoid further erosion, according to the town. Beaumont Drive is stable and remains open to local traffic only, but it is being monitored on an ongoing basis and will be closed should it become unsafe at any point.
Fraserburg Road remains closed and town officials are asking everyone in the area to contact 211 and provide an update on their situation. Grading activities will take place on Stagecoach Road today to provide an additional access to area residents, according to the town, while Wharf Road continues to be closed to vehicular traffic from Ontario Street to Victoria Street to ensure public safety.
Town officials want to remind all members of the public to stay back from all water courses and that it is illegal to travel on roadways marked as closed. Residents affected by flooding are reminded to check in and update 211 on their situation. For life safety emergencies, call 911.
For more information about roads, town parks and trails, drinking water and sandbags, read our lastest article about the flooding in Bracebridge below.
Historically High Flood Elevations Draw Sixty Soldiers To Bracebridge To Assist In Emergency Management