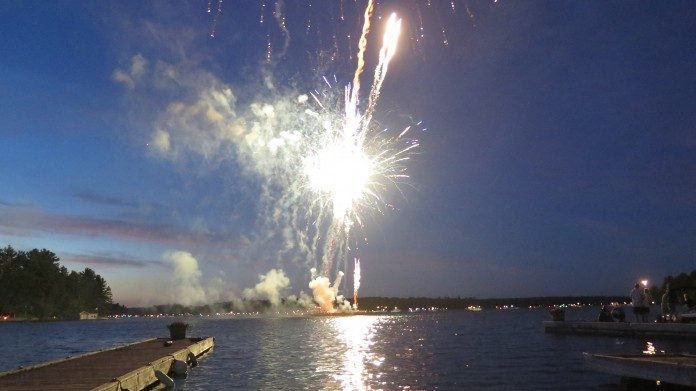 May is when many Ontarians get a jump on summer by opening their cottages and other seasonal homes. The Muskoka Fire Prevention Officers are urging residents to add safety and prevention to their cottage plans.
"Fire safety is not just for homes, it's for cottages, cabins and seasonal homes too," says Huntsville/Lake of Bays Fire Chief Stephen Hernen. "This weekend, consider purchasing new smoke and carbon monoxide alarms and batteries in case they need replacing at the cottage and check heating appliances and chimneys before using them."
This holiday weekend is often the first for people to open up their cottages. The Muskoka Fire Prevention Officers recommend the following fire safety tips:
Install smoke alarms on every storey and outside all sleeping areas of your cottage, cabin or seasonal home: it's the law in Ontario.
Test smoke alarms to ensure they work. Pack a new smoke alarm and extra batteries for the cottage.
Develop and practice a home escape plan to ensure everyone knows what to do if the smoke or carbon monoxide alarm sounds.
Clean heating appliances and barbecues before using them. It's also important to keep an eye on your barbecue and ensure all combustibles, as well as children and pets, are kept well away.
Install a carbon monoxide alarm near sleeping rooms if you have a fuel-burning appliance or attached garage. It's the law!
Keep barbecue lighters and matches out of sight and reach of children.
Check the daily Fire Danger Rating at 1-877-847-1577 for any restrictions on burning before starting campfires or burning brush. Remember there is NO DAYTIME BURNING.
Victoria Day on Monday, May 20th, presents an increased fire risk created by fireworks. To minimize the risk of fire and injury, the Muskoka Fire Prevention Officers urge residents to attend fireworks displays hosted by their local municipalities instead of family fireworks or informal neighborhood displays. If you still choose to have a family fireworks or an informal neighborhood display, check with your local fire department about regulations regarding fireworks.