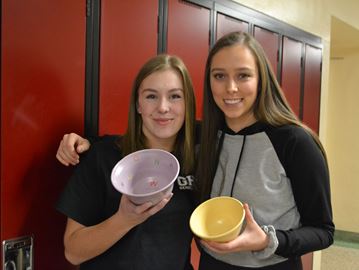 Dear Editor,
As Chair of the Gravenhurst Empty Bowls committee for the past ten years, I am very pleased to announce that both the Gravenhurst Lions Club and Gravenhurst Rotary will be taking over the organization and management of our annual evening!  I am very grateful to know that this rewarding and valuable event will be well taken care of by both service organizations.
Lynn Tyrkus and Kathy Daoust from Lions and Pam McDivitt from Rotary have already begun the process of initiating a new face for this worthwhile event that supports both the Gravenhurst Supper Club and The Salvation Army Food Bank.  Both of these organizations have benefited from over $50 000.00 that has been raised since 2007.
This year we have received money from the District of Muskoka Pay It Forward grant. These funds will help to cover the cost of materials for the event as well as be able to promote it in order to draw a larger and more diverse crowd.
Local potters Lynda Hrynyk, Jim Brown of Muskoka Bay Pottery, Jonathan Bullock, Wayne McGill and Dianne Wooldridge will be providing the hand thrown bowls that are then glazed by students in the GHS Ceramics class.  All of the food is prepared by students in the Hospitality program thanks to donations from The Gravenhurst Farmer's Market and Anderson's Produce.  Entertainment is provided by GHS Music students as well as local groups, such as Kelly Creasor and Jennifer Morgan-Anderson.
Penny Varney has passed on the torch for the Silent Auction that takes place on the evening of the event.  More information about the 2018 "bring your own spoon" evening will be available in September.
The 11th annual Empty Bowls event for Gravenhurst will take place on Thursday, October 25, 2018 at 6pm at Gravenhurst High School, 325 Mary Street S.
Sincerely,
Sue Buckingham
GHS Visual Arts
Photo Credit: ghsemptybowls.weebly.com