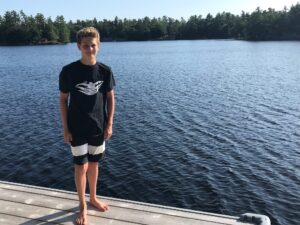 Samuel Wood has spent the last six summers in Gravenhurst at his family cottage located on Muldrew Lake. The 14-year-old competitive swimmer is part of the 'Will Swim for Food' campaign that is raising money and food for the Orangeville Food Bank. As a team of 12, each swimmer will complete 5 km every day for a week between August 18th to 24th. Samuel will swim most of his daily distances in Muldrew Lake. All food and cash donations made to Samuel from his northern location will be donated to the Manna Food Bank that supports Gravenhurst.
Last summer, Samuel's teammate Ryan Hann, swam 35 km in one week and raised $4005 and 300 lbs of food for the Orangeville Food Bank. Many teammates swam with Ryan during his swim week so the campaign expanded to 12 team members for 2019. Samuel was one of the first teammates to show his support and eagerly jumped on board. The whole team has been working hard all summer selling chocolate bars, doing bottle drives and cutting grass to raise money as well as collecting food. The original goal for this year was $5000 and 500 lbs of food, however, the team has already passed that goal and working towards $10,000 and 1000 lbs of food. It will be incredible to see a contribution made towards the Muskoka region food bank since Samuel will be completing his swimming up north.
"I'm very excited to be a part of the Will Swim For Food campaign this summer and help out the Food Bank in my home town. I'm lucky to get to spend a lot of my summer up in Gravenhurst. Since this community gives me so much enjoyment I want to give back and support the Manna Food Bank. I'll be doing most of my 5 km daily swims in Gravenhurst and I hope my cottage neighbours will join me in supporting our local Food Bank" said Samuel. The Manna Food Bank helps clients from Bracebridge, Gravenhurst and surrounding areas.
If you would like to make a donation to Samuel's Northern Will Swim for Food initiative, email willswimforfoodryanhann@gmail.com. For more information about the Will Swim for Food campaign visit www.willswimforfood.ca. To make a donation directly to the Manna Food Bank visit http://mannafoodbank.ca/donate/