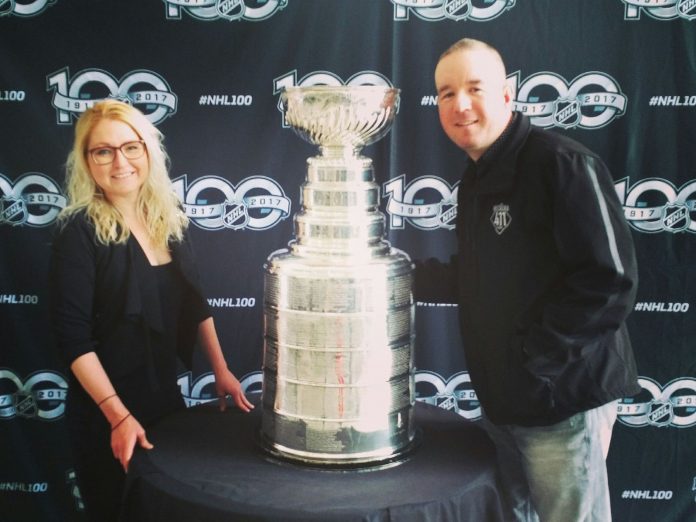 Patients, staff, physicians and volunteers at Royal Victoria Regional Health Centre got a pleasant surprise when the "Holy Grail" of hockey – the Stanley Cup was brought to the health centre, thanks to Honda of Canada Mfg. , a division of Honda Canada Inc.
The Stanley Cup, along with its handler, Philip Pritchard, made the rounds at RVH, touring through inpatient units as well as a public viewing in the Main Lobby.
"We're so grateful to our friends at Honda of Canada Mfg. for arranging to bring the Stanley Cup to RVH," says Janice Skot, RVH president and CEO. "We have many hockey fans at RVH so this was a real treat for them – especially for our patients – to get to see the Cup in person."
Honda Canada Inc. is a proud supporter of the NHL and as such, was granted the opportunity to bring the Stanley Cup® to the community of its manufacturing facilities. "Honda of Canada Mfg. is
a strong supporter of the communities in which our customers and our Associates live, work and play," says Bill Easdale, Senior Vice President, Honda of Canada Mfg. "At Honda, our goal is to be a company that Canadians want to exist and this opportunity to work with the NHL to bring the Stanley Cup to the patients and staff at RVH in Barrie, is a great example of that commitment."
"The Stanley Cup is iconic and incomparable," said Laurie Kepron, NHL Group Vice President, Partnership Marketing. "Not only does it bring immeasurable joy to the players who get the opportunity to hoist it, the Cup also thrills and moves fans of all ages when they see it in person. It was an honour for us to have our great partners at Honda bring the Stanley Cup to visit everyone at RVH."
Muskoka411was on hand for this special event.