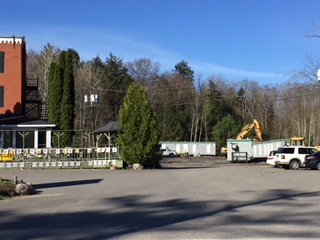 Staff housing trailers were dropped off at the Bala Bay Hostel formally the Bala Bay Inn to be used as accommodation for 80 – 100 staff of the JW Marriott hotel. See our previous story  here.
The trailers were dropped off and construction workers were spotted doing the work, all this happening with no approvals from the Township of Muskoka Lakes.
Not only were Bala residents kept in the dark on this plan, but even the Ward A councillors were unaware of this unwelcome tent city so inconsistent with the unique character of Muskoka.
During a Committee of the Whole Meeting in Muskoka Lakes last Thursday, the proposal to have the trailers remain was not approved by members of Council.
In documents obtained by Muskoka411, zoning by-laws do not approve of staff housing at the Bala Bay Hostel property. The matter is now in the hands of the Township of Muskoka Lakes Panning and Development Department to see what happens next and if the trailers will be removed.