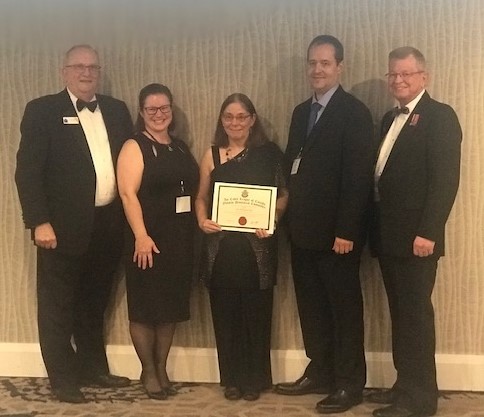 Written by a representative for 724 Midland Lions Air Cadet Squadron
The Squadron Sponsoring Committee (SSC) for 724 Midland Lions Air Cadet Squadron was recently recognized for its outstanding service when it was presented with the Ad Astra Award at the 2019 Annual General Meeting of the Air Cadet League of Canada (Ontario Provincial Committee). This award reflects the support provided to the local Air Cadet Squadron in various areas such as financial support, recruiting and special programs.
SSC Chair Kathy Hawkins was thrilled with the award: " It represents recognition of the outstanding members that makes up the sponsoring committee, as well as the excellent relationship we have with our Commanding Officer, Capt. Megan McKinnon, and her team. It also reflects the long relationship we have had with the Midland Lions Club, the official sponsors of the squadron."
This award marks a return to the top levels of the provincial organization that includes more than 120 squadrons. From 2010 to 2014, 724's SSC was regularly assessed as one of the top ten sponsoring committees in the province.