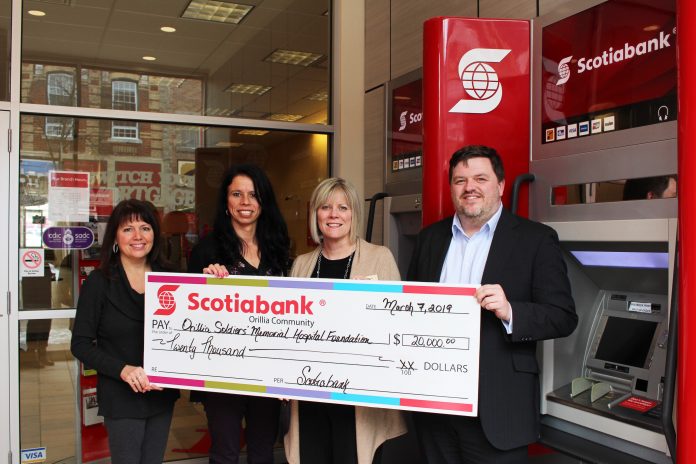 Scotiabank donated $20,000 to the Orillia Soldiers' Memorial Hospital (OSMH) as their fourth installment of a $100,000 pledge commitment, according to the OSMH Foundation.
The money from Scotiabank's ongoing pledge commitment will go toward providing OSMH's healthcare staff with the new equipment and technology they need for patient care. The OSMH Foundation raises money for the hospital to provide funding for medical equipment and hospital programs.
"OSMH is truly the heart of our community, and by supporting our local Hospital, we know we are making a difference in the lives of both our clients and employees," said Leona Beasley and Amy Speers, Orillia Scotiabank Branch Managers, in a joint statement. "We look forward to continuing to support great local healthcare, close to home."  
Scotiabank's latest donation puts the company's total givings to the hospital at over $200,000.
"Scotiabank in Orillia is truly a generous, community-minded business and we could not be more grateful for their ongoing support," said Mark Riczu, executive director of the OSMH Foundation. "Not only have they made a pledge commitment to our Hospital, they also continually support our golf tournament and gala event, as well as the Physician Recruitment Committee's Winter Wonderland."  
If you want to help support new equipment and technology at OSMH, contact the Foundation office at 705-325-6464 or found@osmh.on.ca.