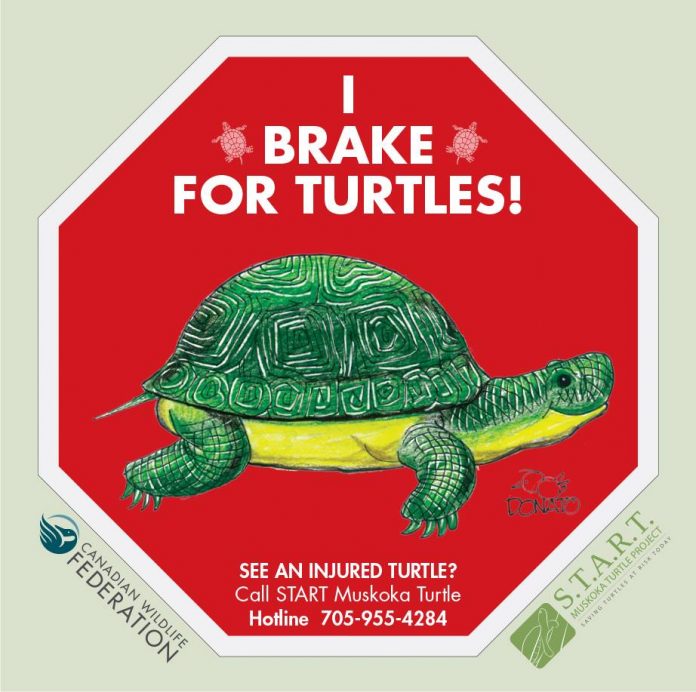 Nesting season is underway!
Remember to call or text the START turtle hotline, (705) 955-4284, for turtles in the Lake Simcoe-Muskoka region — especially for rare species (all sightings), nesting females (any species), or injured/dead (any species) individuals.
The START Muskoka Turtle Project maps road crossings and mortality, captive hatch eggs, and collects lots of data for turtle conservation. Saving one turtle can be a big help to local turtle populations, especially if it's female. A healthy female left to live a long life will lay eggs and help restore turtle populations.
The Canadian Wildlife Federation and SCALES Nature Park have joined efforts to deliver The Saving Turtles At Risk Today (START) Turtle Project. This initiative works to conserve turtles in the Central Ontario region (Muskoka, Simcoe, Haliburton etc) area through on the ground conservation, education, public engagement and outreach. By inspiring local residents to protect turtles, CWF and SCALES will create a national example of how these precious species can be protected throughout Ontario and other regions of Canada.
Thanks to generous funding from the Rogers Foundation, CWF is working with regional partners, community groups, lake associations and individuals to reduce risks to turtles.
The START Turtle Project will target all six turtle species in the region (Painted, Snapping, Blanding's, Map, Musk and Spotted), with a particular focus on Blanding's turtles since this species is the most likely to be impacted by road mortality and human activities in the area.