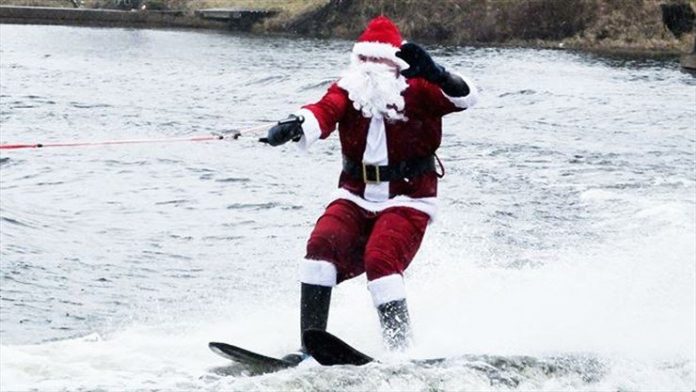 Santa Claus, Mrs. Claus and his elves will be coming to Kearney on Nov. 3rd at  2:00p.m. to perform a winter water ski show on Mirror Bay in support of the Lion's Club Christmas Food Drive. The hot rumour is that Mr. Grinch will be departing Whoville to make an appearance in Kearney.
Santa, Mrs. Santa and the elves will be handing out candy to children prior to the ski show. The admission fee to the show is non-perishable food items for the Lion's Food Drive.
Lion's Club president Blair Ballantyne stated "we were overwhelmed with the food donations that received from last year's winter ski show and we believe 2018 will be the biggest donation ever"
The winter ski show works in conjunction with Lion's Club, Rickward's Polaris SWS, Landmark Pub and The Town of Kearney to generate awareness of the food drive and donations for families in need of support during the holiday season.
Event committee organizer Rob Rickward stated "the magic of Santa's winter water ski show has really connected and united the community in support the Lion's food drive and this key initiative for families in need"
This year's winter ski show will have some new ski acts to entertain and thrill the audience!  Show skier Craig Waites stated " We don't worry about the temperature all we want is flat water for the barefooters" This year's show will have a larger contingent of Team Canada members who recently won the bronze medal at the World Championships in Huntsville in September.
#LetsGoSkiShow