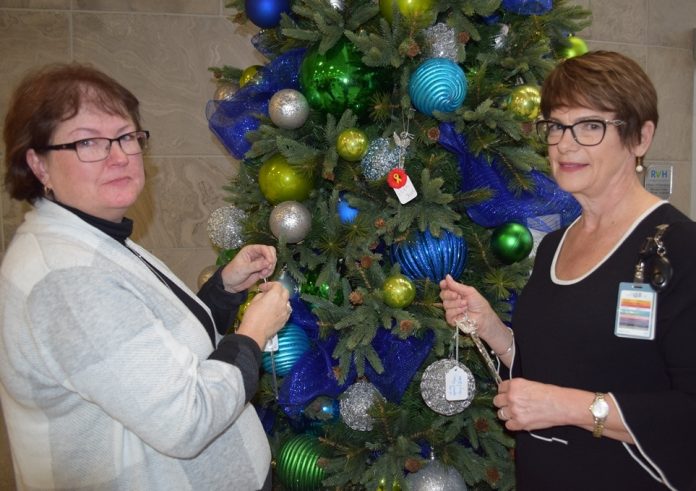 Royal Victoria Regional Health Centre's (RVH) Main lobby was filled with angels for the annual Angel Tree ceremony held on November 26th.
This is the seventh year the Angel Tree ceremony, founded by Brenda Stanley, owner of The Heart of Business, has been held at RVH. Stanley has once again partnered with Bell Media to continue the Radio for Cardiology campaign. The money raised supports Bell Media's pledge to the Hearts & Minds campaign, specifically the Cardiac Intervention Unit in the Simcoe Muskoka Regional Heart Program.
The official launch of this year's Angel Tree campaign was marked with the placement of the first angels on the beautifully decorated tree in RVH's Main lobby. An angel was placed by Janice Skot, RVH president and CEO, in memory of her mother Terry O'Brien, and two angels by Sharon Sheard, manager of Renal Services at RVH, in honour of her brother Maj. Michael  Doucet, 58, and her aunt Violette Pickard, 78, both of whom passed away just last month. The ceremony was accompanied with music provided by St. Andrew's Presbyterian Church Choir under the direction of Chris Bohdanowicz.
"The holidays can be a difficult time for people, especially if they have lost someone they love. It is also a special time to be inspired by angels who are still among us," says Skot. "The Angel Tree ceremony is a beautiful way to remember those people, while at the same time supporting the important work we are doing to bring care closer to home. We are fortunate to live in a community so full of generous and kind-hearted people."
RVH invites patients, visitors, physicians and volunteers to honour a friend or loved one this holiday season by supporting the Angel Tree campaign. The angels are purchased for a minimum donation of $10 from the RVH Foundation, located in the health centre's Main lobby near Café Royale, until December 23rd or online at AngelTree.Kintera.org.