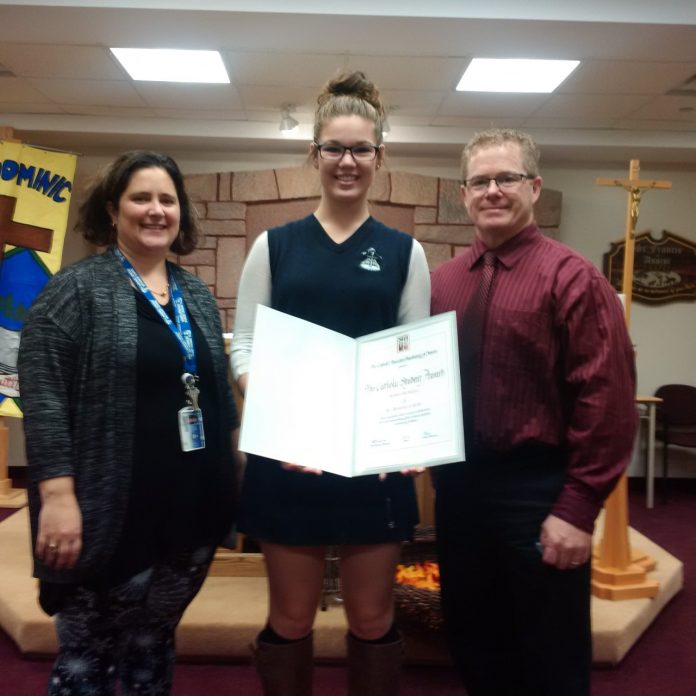 Each year, all Catholic secondary schools in the province are asked to select one outstanding student to be the recipient of the Catholic Education Foundation of Ontario Catholic Student Award. Muskoka411 went to St. Dominic Catholic Secondary School in Bracebridge to meet Robyn McIntyre, a recipient of this award.
Robyn is an outstanding volunteer in her community of Bracebridge by assisting with food and toy drives and always encourages friends and family to get involved. Robyn hopes her dedication to the community and commitment will inspire others to get involved as well.
"It's definitively nice to know that you can help other people and that I am doing what I can. I love the feeling of helping other people" says Robyn McIntyre
Muskoka411 presented Robyn with a prize pack to show appreciation for her great work. On behalf of the entire Muskoka411 Team, congratulations Robyn.
The Simcoe Muskoka Catholic District School Board is proud to recognize nine other exceptional individuals who are well-deserving of this award.
Heidi Hayes – Patrick Fogarty Catholic Secondary School
Alessandra Garzon – Holy Trinity Catholic Secondary School
Molly Bouchard – Jean Vanier Catholic Secondary School
Andrea Chiappetta & Marianne Champagne – St. Joan of Arc Catholic Secondary School
Stephen Bond – St. Joseph's Catholic Secondary School
Stefanie Francavilla – St. Peter's Catholic Secondary School
Teagan Berry-Moreau – St. Theresa's Catholic High School
Anna Gawron – St. Thomas Aquinas Catholic Secondary School
Each of these students demonstrate great scholarship, frequent involvement in school and community activities, and exemplify the Catholic school values. They will be recognized, along with other outstanding Catholic award winners, at the 33rd Annual Father Patrick Fogarty Awards Dinner on Saturday, October 29, 2016 in Toronto.