The Township of Ramara and a local citizen group are preparing to fight Fowler Construction's appeal through the Local Planning Appeal Tribunal (LPAT), which aims to have a property north of the existing Fleming quarry rezoned for mineral aggregate extraction.
Ramara Township Council rejected the company's application that would have allowed for an additional 6.9 hectares of extraction in a 5-2 vote, leading Fowler to file an LPAT appeal. Ramara Mayor Basil Clarke said township officials have had their first discussions with legal staff and will soon meet with the township planner to continue preparations. A group of locals known as the Ramara Legacy Alliance is also working to create a case against Fowler with their lawyer David Donnelly. The alliance, Donnelly and Clarke agree that the company is appealing for a second quarry, not simply an extension, and that the proposed location is unacceptable.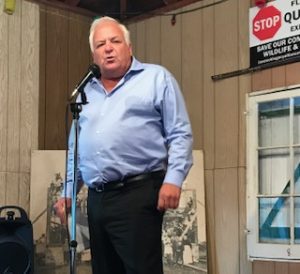 "It's granite and there's millions of hectares of granite on the Canadian Shield, so this is not a stone that's in short supply," Clarke said. "I'm sure the quarry will tell you it's special, everybody's rock is special to them."
Clarke said the area wasn't zoned for aggregate extraction because of its proximity to cottages and homes, which is one of the primary concerns shared by the Ramara Legacy Alliance. The alliance is a citizen group that came together to fight Fowler's proposal, which would allow for a new quarry about 70 metres from the closest residence.
"We do need quarries, we do need industry in our community because we do need jobs, but just not that close to a settlement," said Joan Mizzi-Fry, president of the Ramara Legacy Alliance. "It's just too close because this quarry blasts. It's not just the digging and the grinding."
A document from Fowler's website states that "studies have been completed which demonstrate that some routine household activities (such as hammering a nail or slamming a door) produce vibration levels greater than those experienced at the home as a result of blasting." Mizzi-Fry said the company is not being upfront about the impact of blasting and called their description insulting.
"If you're here and you feel a blast, you know," Mizzi-Fry said. "The houses do shake, pictures do fall off walls. People have had structural damage. I can't see a hammer or the slamming of a door doing that."
Blasting also raises concerns about flyrock, she said. Mining engineer William Hill wrote a peer review for the group stating that the quarry is detonating too close to the community. He recommended a setback of at least 600 to 700 metres, but the residences closest to the quarry are only 80 metres away even before the proposed expansion.
Along with the blasting, the group has raised concerns about the quarry's impact on drinking water, endangered species and property values as well as road safety. They've collected over 2,400 videos from the community showing traffic issues or infractions involving quarry-related vehicles (see video). The presence of silica dust, which is a byproduct of grinding granite and is known to cause cancer and a number of other diseases, is also a key issue for the group.
"Even though [people] say 'Oh, it doesn't affect me' or 'It's not happening in my backyard,' it will eventually affect all of us, all our lakes," Mizzi-Fry said. "We live in one of the most pristine, most beautiful communities in the world being here in this part of Lake Couchiching and Lake Simcoe and we want to maintain that."
James Gordon, materials manager for Fowler, declined to comment other than to say that the company is preparing for the LPAT process. However, he did provide a company statement previously issued to other members of the media, expressing Fowler's disappointment with council's rejection of their application.
"We were surprised by the decision of some members of Council to ignore all of the technical peer reviews that they commissioned which confirmed that our application complied with all government policies and guidelines," said the statement. 
"The Township has a prescribed process to follow and we are extremely disappointed that they circumvented their own process and proceeded to make a decision on our application prior to receiving a final recommendation from the Township Planner."
The statement also said that it is "unfortunate that the taxpayers of the Township will now be burdened with this unnecessary legal expense." To that, Mayor Clarke responded, "Why would the quarry put the citizens through the cost of not accepting our decision?"
Clarke said that residents can voice their disagreement with the quarry by sending letters to council. He also recommended providing support to the Ramara Legacy Alliance, including financial support to help the group with their legal costs.
"I can only hope that we have a judge that's sensitive to the local people," Clarke said. "This is not a rock that's in short supply, there's no reason why they can't find this rock north of here."
To learn more about Fowler's proposal, visit their website. For more information about the Ramara Legacy Alliance, contact RamaraLegacyAlliance@gmail.com.