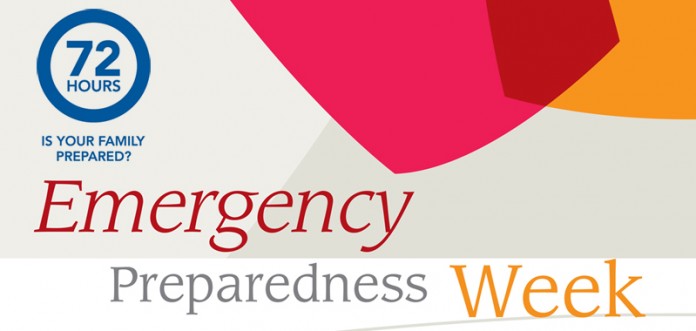 Ontario is marking the 21st annual Emergency Preparedness Week from May 1-7 to highlight the importance of making a family emergency plan, building an emergency survival kit, and staying informed before, during and after emergencies.
The campaign seeks to engage youth and adults by raising awareness about the importance of being prepared. The province is encouraging individuals and families to build or refresh their 72-hour emergency survival kit and share their tips with others. Emergency preparedness also means being prepared to assist others, like seniors or people with disabilities who might have difficulty coping with power outages, severe weather and other emergencies.
The Office of the Fire Marshall and Emergency Management has emergency preparedness materials available in 20 languages to encourage all Ontarians to make an emergency plan, prepare a survival kit, and reach out to family, friends and neighbours who may need help during an emergency. They will also be participating in events in communities throughout Ontario providing tips to make sure Ontarians are prepared and safe.
Did you know…
Two-thirds of Canadians have taken action to prepare for emergencies.
The province opened the new Provincial Emergency Operations Centre last year to co-ordinate the Ontario government's response to major emergencies such as flooding, forest fires, or a building collapse, while also serving as a key resource for municipalities and First Nations that require provincial assistance.
Follow @OntarioWarnings on Twitter to stay informed before, during and after emergencies.
"We are encouraging all Ontarians to be prepared. Emergency Preparedness Week is a great time to make an emergency plan, prepare a survival kit, and to reach out to family members, friends and neighbours to share tips to keep each other safe. I encourage all Ontarians to work together, and care for each other to make sure our communities are resilient and safe." – Yasir Naqvi, Minister of Community Safety and Correctional Services
"Personal preparedness is key to resiliency before, during and after emergencies. The three simple actions of making a plan, building a kit and staying informed can save your life and the lives of those you care about. Emergency preparedness starts with each Ontarian. I encourage you and your families to reinforce this important message and make sure you are prepared." – Ross Nichols, Ontario Fire Marshal and Chief, Emergency Management