Preparations are underway for Bala's 26th annual Trek to Bethlehem after a new board chair stepped up to lead the event, saving it from disappearing after the retirement of several longtime volunteers.
The first Trek to Bethlehem was supposed to be a one-time event for Bala's 125th anniversary, but it's popularity led it to become an annual tradition coordinated by volunteers. Patricia Gidley, longtime board chair for the Bala Trek, committed to her position until the 150th anniversary of Bala in 2018, but Gidley will serve an additional year as co-chair, helping to transition in the new board chair, Lynn Randall-Foster. Randall-Foster has been going to her cottage on Acton Island for 62 years, and this year, she and her husband are winterizing their cottage to live in Muskoka year-round.
"I was so looking forward to the Trek to Bethlehem because I had never been able to come,"  Randall-Foster said. "Then I read in the paper that it's in danger and I thought, 'I can't even believe it, that cannot happen.'"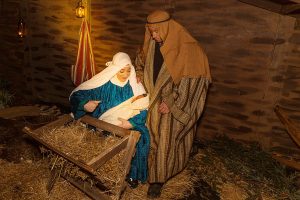 That's when she decided to step up as the new board chair for the event. She's familiar with organizing community events from many years on the Richmond Hill Winter Carnival Committee, some of which were spent as chair of the event. 
But oddly enough, before making the full-time move to Muskoka, Randall-Foster and her husband were living in Bethlehem, Connecticut after he was transferred there for work. It's a bizarre coincidence that she's leaving Bethlehem to lead the Trek to Bethlehem, but Randall-Foster said she's excited to keep the tradition alive.
"It's going to be absolutely true to the intentions of the folks who started it 25 years ago," she said. "We're looking forward to seeing as many people as possible for the 26th year of the Trek to Bethlehem through Bala." 
Randall-Foster has done a site walk with co-chair Gidley and they're planning to meet the week after Labour Day to go through costumes and other details. Randall-Foster also has meetings with other committee members to go through the scripts and the other materials they have available.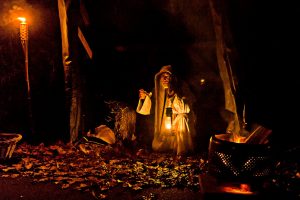 She has her eye on some friends that she may be able to talk into coming on board the committee and helping out, which is important, she said, because after 25 years, the current organizers are "running out of steam, and they're thinking, maybe we need new people and new ideas." 
To help along their new ideas, Randall-Foster's husband is putting together a workshop where they can adjust sets and props or make new ones, but for now, Randall-Foster and the rest of the team are just happy to keep the event alive. She hopes that, religious or not, locals will spread the word about the event and show up for the magical December evening.
"It's going to be a very interesting and profound experience, and I want people to know that," she said. "It's not that it's a religious message or that we're pushing anything. We're just telling the story and you can take from it what you want."
For more information or updates about the trek, visit the Bala's Trek To Bethlehem Facebook page. Read the article below to learn more about why the trek almost disappeared.
Photos courtesy of Bala's Trek to Bethlehem
Bala's Trek To Bethlehem Could Disappear Following Retirement Of Three Key Volunteers