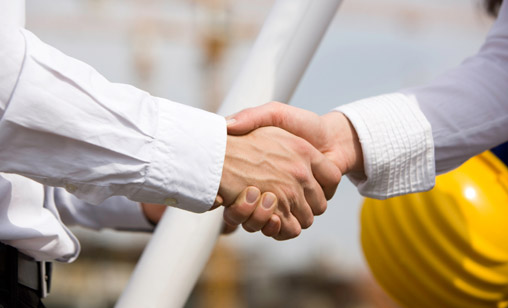 With Spring fast approaching, many people start to think home or cottage renovations. While it is always nice to do a job yourself, sometimes that job requires the services of a professional contractor. The staff at Muskoka411 have some tips to help you secure a contractor that is a good fit for you and your family so you don't end up with subpar work, delays or even legal issues.
1. Pick a contractor who specializes in the type of project you are doing.
It's very important to research contractors to know if they have experience in the type of project you plan on doing. Major projects are regulated by the Ontario Building Code and have specific requirements. You will want someone who knows the OBC and the all details that are required with your project.
Professionals often take classes and research the kinds of projects they undertake, so they're experts in their fields. This knowledge enables them to adequately address any potential problems ahead of time and perform the work correctly.
If you're asking several contractors for a bid, make sure each one is using the same set of plans and specifications, you can't effectively compare evaluate and compare quotes from contractors who plan to use different brands of building materials.
2. Start with your friends and family and you can always refer to the Ontario General Contractors Association for a list of members in your area. You can also talk off the record with a building inspector, who'll know which contractors routinely meet code requirements.
Once you've assembled a list of potential contractors you should ask each of them following questions:
• Do they have the capacity to take on your size of project?
• Are they willing to provide financial references, from suppliers or banks?
• Can they give you a list of previous clients?
• How many other projects would they have going at the same time?
• How long have they worked with their subcontractors?
The answers to these questions should reveal the company's availability, reliability, how much attention they'll be able to give your project and how smoothly the work will go.
3. Make Sure the Contractor is Bonded and Insured and has a licensed business
Having a licensed business and insurance demonstrates a contractor's credibility and knowledge. A license minimizes the risk to homeowners of getting ripped off. Make sure to get the contractor's license number.
If a contractor doesn't have insurance and a worker gets hurt on your project, you could be liable. The same goes with accidents that damage your next-door neighbor's home. If you have scaffolding that fell and damaged the property next door, you want the contractor's liability insurance to cover the cost of any damage. Always ask for proof of insurance and ask that you be named as additionally insured.
4. Have a Detailed Contract in Place Before any Work Begins
The contract should cover costs, specific brands of items being installed, approximate start and finish dates, and the complete set of drawings being used with written specifications. There's never too much detail in a contract. If a specific brand for a part hasn't been agreed upon yet, the contract can include allowances instead, with maximum upset limits, such as "up to $500 for a front door."
A lot of homeowners will engage multiple contractors to get bids on their job, and then they unfortunately cannot remember what contractor said what. The contract takes that guess work out of it because it spells out everything. The contract is a document with the expectations, right down to what color the hardware on the cabinets are. If everything is agreed upon upfront, it limits the surprises.
5. Find out Who's Performing the Work
Will the person you're hiring be completing the job himself, or will it be subcontracted to another company? It's nice to know who will be showing up on your doorstep, and large jobs like additions and major kitchen remodels will often involve multiple subcontractors, such as electricians and plumbers. General contractors often subcontract specialty jobs, like roofing or vinyl siding, to other professionals. Having a subcontractor is not a bad thing, they tend to have more detailed knowledge of their aspect of the job. This is contingent on hiring a good general contractor as they will not knowingly put a bad sub on the job, as their reputation is at stake.
6. Give the Contractor Guidelines for Working In and Around Your Home
If you don't want the workers showing up before a certain time, staying past a certain hour, using your bathroom, or you need to have the project finished by a specific date, this needs to be set out to the contractor before you hire them. The contractor may not want or be able to accept the job based on your parameters. They need to know you limits and expectations. For example, if you do not want the contractor to start until mid-morning and want them out before 5 p.m., the schedule of the project will change. If this isn't outlined at the beginning, it will more than likely end up costing you additional money.
7. Know What Your Responsibilities Are
You may be responsible to have to move everything out of a room so it can be painted or remove a fence so a concrete truck can be driven into your backyard. If you expect the contractor do this type of work, it needs to be set out and included in your quotation documents so the contractor can budget for the work (time & money wise). Most contractors don't want the responsibility of moving personal items out of a room before a big renovation and would rather leave that to the owner. They do not want to be responsible for broken items. All of these items should be laid out in writing when the initial contract is drawn up. Another thing is, what you will be doing with a family pet. Contractors do not want to be responsible for a missing animal…so please be upfront about any animals in the home.