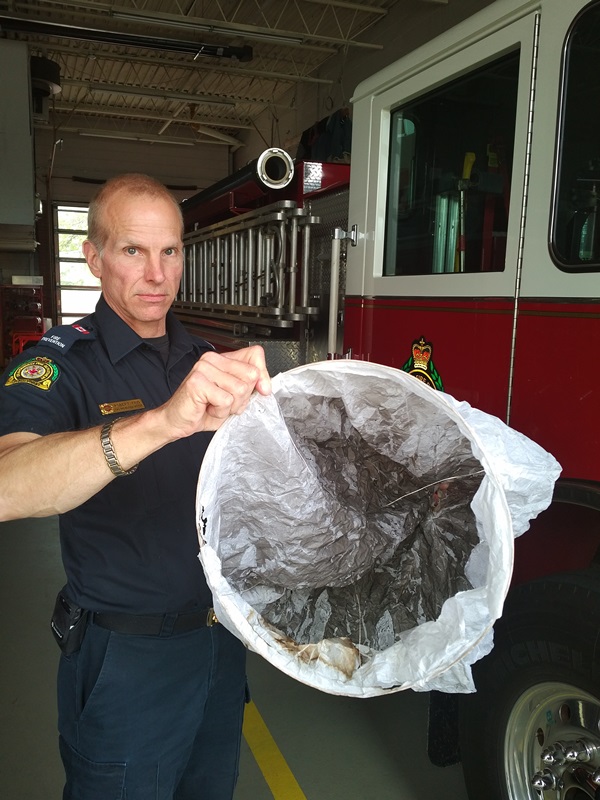 Recently a concerned citizen brought a partially burnt flying lantern into the Gravenhurst Fire Department headquarters. The flying lantern, also known as a "sky" or "wishing" lantern, landed on his roof in beautiful historic downtown Gravenhurst.
Flying lanterns are made of paper, and a flame is ignited near the bottom of the lantern. When the flame is lit, the heated air causes the lantern to float upwards. Theoretically the lantern will stay in the air until the flame goes out, but this isn't always the case, and once it's in the air, it is uncontrolled and can go anywhere the wind takes it.  In 2009 the Provincial Fire Marshal's Office of Ontario and Alberta noted that the lanterns "pose a serious fire risk" and the Ontario Fire Marshal asked Health Canada to declare a ban on the flying rings of fire. Health Canada felt there was no need to regulate the product at the time.
"While there are no Provincial or Federal regulations on the sale or use of flying lanterns in Ontario, we ask people to use some common sense and be considerate of their neighbours. We don't recommend they be used at all in our community," said Robert King, fire prevention officer.  "In July 2013 an errant flying lantern was linked to a $10-million fire at a recycling factory in Smethwick, near Birmingham in the English Midlands injuring nine firefighters and
destroying 50,000 tonnes of paper and plastic," King added.
"The landscape of Muskoka is one of serenity and natural beauty. We are surrounded by historic homes and businesses, hundred year-old forests and green-spaces all intermingled with new homes and businesses," said King. "It would be a shame for an unwanted fire to occur caused by one of more of these flying lanterns destroying the heritage and landscape that we hold so dear".
More
Flying lanterns a fire hazard for cottages