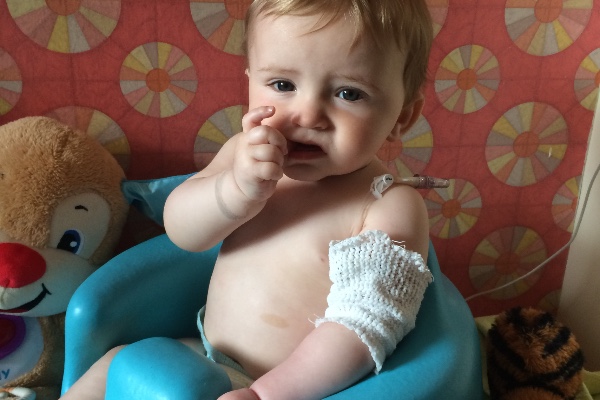 7 month old Hayden White was taken to Sick Kids hospital for what was thought to be a day to get a MRI on his spine. What the doctor's at Sick Kids found has turned Hayden's, and his parents, Josh White (Dad) and Amanda MacDonald (Mom) life upside down.
Doctors at Sick Kids discovered a 2″x 2″ cancer mass on Hayden's lower spine.
Josh and Amanda have now spent an entire in Toronto by Hayden side as he has undergone extensive testing and Chemo therapy.
Josh and Amanda have had to put their life at home on hold to tend to their child in need.
Family and friends have come together to raise money for Josh and Amanda to help them cover expenses while their son gets the treatment he needs to be healthy.
A Go Fund Me account has been set up to help cover expenses for this family.  To donate please click here.  You can also find out more about Hayden's issue and get updates on his condition.