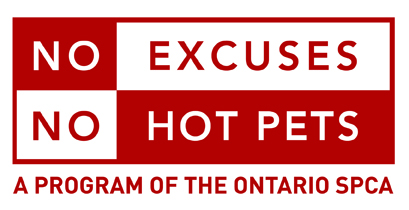 To help spread awareness about the dangers of leaving pets unattended in vehicles, and to assist pet owners, the Ontario SPCA is encouraging businesses across the province to take part in its annual No Hot Pets campaign by joining a list of pet-friendly businesses online.
Businesses that pledge their support for the No Hot Pets campaign will receive a digital sign to print and display in their window letting pet owners know they can bring their animals inside while they shop or do business.
"Wherever possible, we recommend that people leave their pets at home where they are safe and comfortable," says Jennifer Bluhm, Deputy Chief Inspector, Ontario SPCA. "However, we know that's not always possible, particularly for those who are travelling with their pets. Our business directory helps them make informed decisions when planning their stops to help keep their animals safe from the heat."
The issue of owners leaving their pets in vehicles during the hot summer months is an ongoing problem across Ontario and puts animals' safety at risk. Parked cars can quickly reach deadly temperatures, even on relatively mild days with the car parked in the shade and the windows open. Dogs have a limited ability to sweat, so even a short time in a hot environment can be life-threatening.
Now in its sixth year, No Hot Pets is an Ontario SPCA campaign partnership with SPCAs and Humane Societies across Canada. Through its No Hot Pets campaign, the Ontario SPCA is seeking the public's help to share this important message and report pets left unattended in vehicles.
For more information about the No Hot Pets campaign, and to add a businesses to the online directory, visit Nohotpets.ca
If you observe an animal suffering in the heat, call 310-SPCA (7722) or your local police.