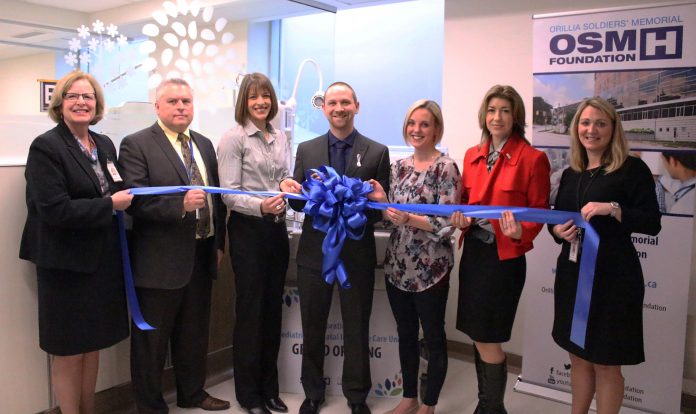 Orillia Soldiers' Memorial Hospital (OSMH) officially cut the ribbon today celebrating completion of a $2.7 million renovation of its Paediatrics and Neonatal Intensive Care Unit (NICU).
Part of the Regional Women and Children Program at OSMH serving North Simcoe, Muskoka and beyond, the unit was temporarily re-located to the 4th floor of the hospital in May 2016 to allow for construction.  Following today's opening ceremony and tours, patients will be transferred into the new space on Tuesday, February 28th.
"This is an exciting day for our hospital and the patients and families who rely on us for care," said Dr. Michelle Gordon, Chief of Neonatal and Paediatric Medicine at OSMH.
"While our program has grown over the decades, the physical space we've had to work in has remained relatively the same.   Thanks to community support, we now have a much more modern work space that will afford families the privacy they deserve and provide clinical staff with room to maneuver," said Gordon.
The project doubled the size of the NICU from 955 to approximately 2,200 square feet, while upgrading critical new equipment such as incubators, ventilators and cardiac monitors.
Renovation costs were fully funded through community donations to the OSMH Foundation and fundraising continues to close the gap.
"We can't thank the community enough for their tremendous support over the last few years," said Nicole McCahon, Executive Director, OSMH Foundation. "Their generosity is what made this project a reality."
Over the next few months the Foundation will be working to close a $200,000 fundraising gap on the project.